Steve Sarkisian addresses Bijan Robinson's future, how NIL plays into those decisions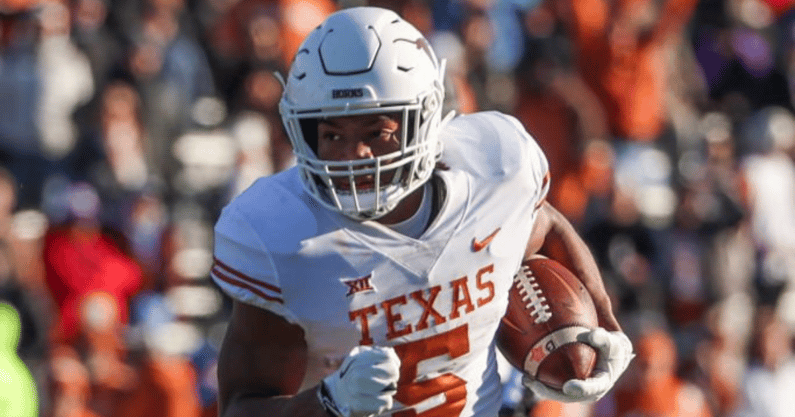 There's no denying the star power that Texas running back Bijan Robinson has. Whether in Austin or his future in the pros, he looks primed to be successful. As his junior year winds down, though, that question about what the next step of his future is has come to the surface. However, Steve Sarkisian respectfully put it to rest as he wants Robinson focused on the right things this week.
Sarkisian spoke about Robinson's upcoming decision during his press conference on Monday. He said that the program leaves those conversations untouched until the end of the regular season. Then and only then will they put everything into helping Robinson and his family make the best call for themselves.
CLICK HERE to subscribe for FREE to the On3 YouTube channel
"I always try to put those kinds of talks off until after. That can create clutter in these guys. I know he wants to come in here Friday and play well, wire into the game plan," said Sarkisian. "When that time comes and the regular season dies down, we'll have those discussions. Not just with him but with his family. And we'll get the necessary information in place so he can make a really good decision…That discussion with he and any other guys on our team will happen after the regular season."
Robinson has put up over 1,700 yards of offense this season and scored 18 touchdowns overall. His latest performance in Texas' win over Kansas only further underlined his notoriety. He rushed for 243 yards on an average of 9.7 yards per touch on his way to four touchdowns. It's statlines like that that have made him one of the best players in the sport and one of the NFL Draft's top prospects.
However, draft decisions aren't made as easily anymore due to NIL. Robinson's popularity has allowed him to cash in as one of college athletics' most profitable players per the NIL 100. With an NIL valuation of $1.3 million, is it that crazy to think Robinson could return to Texas? It isn't according to Sarkisian. He says he realizes the impact that that kind of money, along with an extra year of education, can have on players and their families.
"I think NIL may play a factor in some guys' decisions to decide to turn pro or not because of the opportunities that they get placed with. That's why I say I don't necessarily think it's a bad thing," Sarkisian said. "I think it's a way for young men who want to stay in school to earn their degree, to be part of a university. That's a positive. I know so much of NIL right now is there's a negative connotation that's surrounding that word, about what it's doing to college athletics. But if it can promote a young man to stay in school, to get his degree, to be part of a university in a program? I think that's a positive."
Robinson will have a big decision to make in the coming weeks. Does he want to be one of the first players off the board in Kansas City this upcoming April? Or does Robinson want to run it back with Sarkisian and Texas? For now, his focus is on the Longhorn's regular-season finale against Baylor. Only time will tell when it comes to Robinson's final call from there.