Steve Sarkisian addresses possibility of putting Casey Thompson in earlier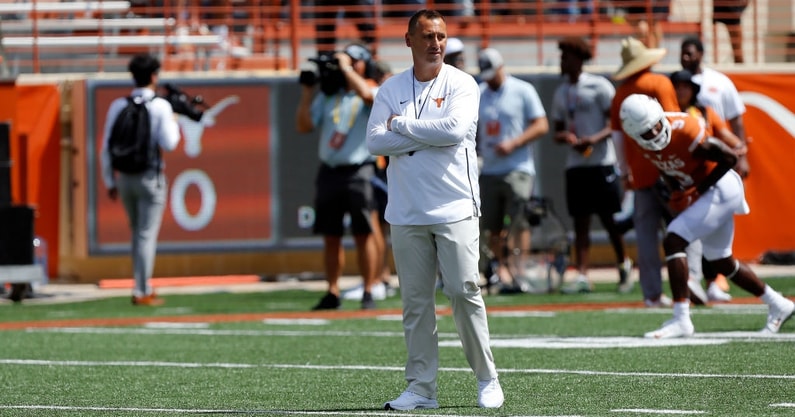 University of Texas head coach Steve Sarkisian spoke with reporters about his decision against Arkansas to not put quarterback Casey Thompson in until late. While Sarkisian believes the decision might have changed things in hindsight, he explained that the offense did not play well as a unit regardless of who was at quarterback.
Steve Sarkisian on starting Casey Thompson
During a postgame press conference following Texas' 21-40 loss to Arkansas on Saturday, Sarkisian fielded questions about his team's disappointing night. The biggest question of the night among many fans was why he continued to let freshman quarterback Hudson Card remain in the game despite a poor offensive showing.
Sarkisian was asked if he had thought about switching to Thompson earlier in the game as a way to jumpstart their offense.
"Yeah I did. Again, it was a gut thing," Sarkisian answered. "Hindsight is 20/20, maybe you look back and do it earlier. But we did it when we did it. I was proud of Casey and the way he competed. Again, we didn't as a team play well enough on early downs and we put ourselves in really difficult third and long scenarios."
"It's hard to convert third-and-nine, third-and-tens consistently," Sarkisian continued. "And that's where we lived tonight and you're not going to win playing that way. You've got to play better on first and second down and we didn't do that tonight."
Thompson stepping in late
Card's performance in the Texas offense was a struggle against Arkansas on Saturday. Before leaving the game, Card had completed 8 of 15 passes for only 61 yards and no touchdowns. Texas' only score of the game before Thompson entered was on a touchdown run from running back Bijan Robinson.
The Longhorns' struggles were beginning to raise a call from fans and former players alike, as former Texas linebacker Emmanuel Acho shared his own thoughts on social media during the game.
"Texas has to pull Hudson Card immediately. He's young and has a bright future ahead of him. But that future ain't today! Casey Thompson needs to be in by the next series!"
Thompson would enter the game with a little over a minute remaining in the third quarter and engineered an impressive drive for Texas that resulted in his rushing for a 5-yard touchdown to start the fourth quarter.
Thompson's drive went for 75 yards on ten plays, including a big third-down penalty by Arkansas for roughing the passer to extend the drive.