Steve Sarkisian addresses Texas Tech fan knocking down Texas player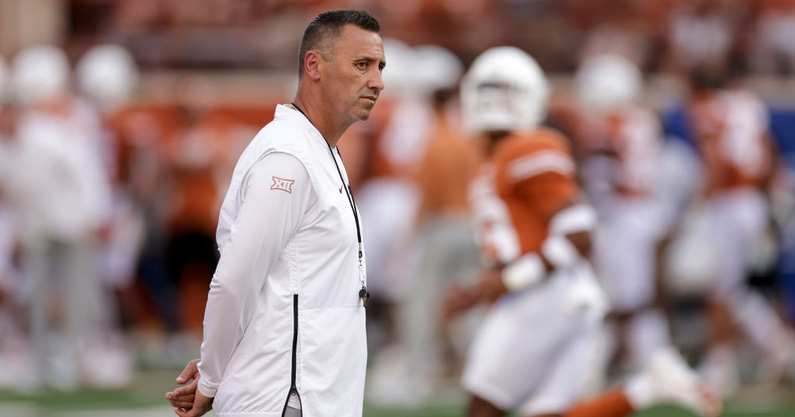 Texas Longhorns coach Steve Sarkisian commented on the fan incident that occurred on the field after their Texas Tech game on Saturday. A video circulated via social media over the weekend that captured a Texas Tech fan shove one of the Texas players walking off the field after the overtime loss.
A fan celebrating the Red Raiders' 37-34 win in overtime recorded the scene on the field as Texas players walked off the field — capturing the moment a fan ran and throw his whole body into Texas' Ovie Oghoufo.
Steve Sarkisian on Texas Tech fan video
"I wouldn't call the fan 'running into our player,' I think the fan went and knocked our player down," said Sarkisian during his Monday press conference. "Obviously those are tough situations. I love the pageantry of college football. When fans rush the field, it's dangerous for us as coaches on both sides. It's dangerous for the players.
"It's an unfortunate situation, I give Ovie a lot of credit. I thought he showed great poise and composure. That could have turned into an ugly situation, I thought he handled himself well. But no, I have not reached out to Tech. Our administration may have but my goal — my focus — is on our team and getting us better and ready to play."
CLICK HERE to subscribe for FREE to the On3 YouTube channel
As the clip made the rounds on social media on Sunday, it caught the attention of Texas Tech leadership. The school released a statement decrying the fan's behavior and asked for help identifying him to assist with the school police department's investigation.
Sarkisian's stance on the incident appears clear — that he believes the fan deliberately went after one of his players with his shove. The Texas coach went on to clarify that he believes the Texas Tech crowd was justified in rushing the field after their big win, but felt that players are at risk during the college tradition.