Steve Sarkisian admits Texas needs to 'avenge' Kansas loss from 2021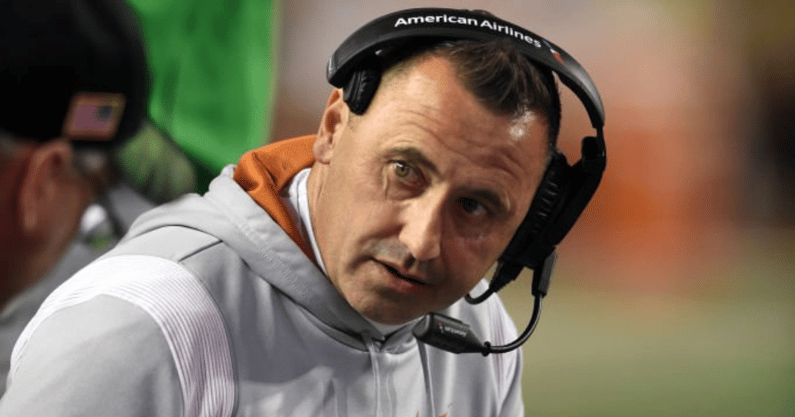 It's fair to say Texas is out to prove a point this weekend. As they prepare to travel to Lawrence this weekend and face Kansas, it's hard to not have the Longhorn's 57-56 OT loss to the Jayhawks at the front of your mind. While he wants to keep the focus on this season's game, Steve Sarkisian did say that it's human to think that they own them one.
Sarkisian talked about the impact of last year's game on this season's matchup during media on Monday. He says the fact of the matter is that the two teams are vastly different but, in the end, he knows his team is looking for a little payback.
CLICK HERE to subscribe for FREE to the On3 YouTube channel
"Human nature tells you yeah, right? I mean we need to avenge what happened a year ago," said Sarkisian. "But the reality is we're a different team, they're a different team. (There's) a little bit more at stake in this scenario of what we need to do. So I think our guys want to play well for a lot of reasons."
Last year's game was a good old-fashioned Big 12 shootout. The Longhorns came back from a 35-14 halftime deficit to send it to overtime. However, Kansas broke their hearts with a rushing touchdown from Devin Neal and then a two-point conversion to win in the extra period.
If that wasn't fuel enough, Texas is coming off a frustrating fourth loss of the season last Saturday against TCU. All of that should hopefully lead to a performance that Sarkisian can be proud of this weekend.
"I'm sure that's a component to it all. There's what happened this past weekend. There's a lot behind the scenes that should be motivating for our guys," Sarkisian said. "But the biggest motivator should be a standard of football that we're capable of playing. We need to get back to playing to that standard."
With some movement still left to be made in the Big 12 race, Texas should be plenty motivated to win come their road trip this weekend. Still, last season's crushing loss should give them some extra juice to be ready come kickoff against the Jayhawks.