Steve Sarkisian: Criticism of Spencer Rattler 'might not be very fair'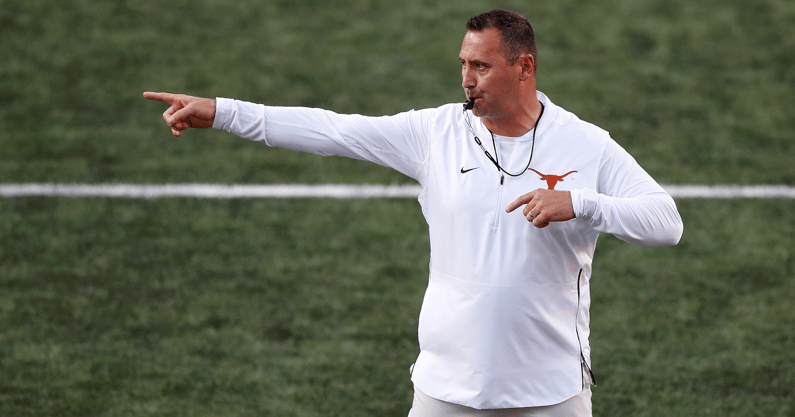 Oklahoma quarterback Spencer Rattler has taken his fair share of heat from fans this season, and Texas coach Steve Sarkisian is ready to stand up for him. The Sooners and Longhorns are set to play in the annual Red River Rivalry game at noon ET Saturday at the State Fair of Texas in Dallas.
"Quite frankly, (the criticism) might not be very fair to the kid," Sarkisian said. "You look at the standard and it's just been set so high with the quarterback play they've had for the past few years since Baker (Mayfield) was there. (Rattler) is still completing 76% of his passes. He's still a very efficient player. I know we all want to score 50 points every time we go out, but he is still maximizing opportunities."
Oklahoma fans booed Rattler during a 16-13 home win against West Virginia in Week 4 and chanted for backup Caleb Williams to enter the game. In spite of the naysayers, Rattler leads the Big 12 in passing yards, passing touchdowns and completion percentage.
The quarterback completed 22 of 25 passes for 243 yards, two touchdowns and an interception in a road win against Kansas State this past week.
"He continues to play better," Sarkisian said. "Last week was probably the best game he's played all year. We've got our work cut out for us because he's a really natural passer. The ball comes out of his band really nicely and he's a good athlete that can extend plays. They also have some designed run stuff for him to keep it. You've gotta be aware of his capabilities. He's more than capable of playing at a high level."
Texas owns a 62-49-5 all-time advantage in the series but has lost nine of the past 12 meetings. Adding to this, Oklahoma has won the past six conference championships, including 39-27 victory against the Longhorns in the 2018 Big 12 Championship Game.
After running over Texas Tech in Week 4, the Longhorns took out TCU the following week to improve to 2-0 in Big 12 play. The victory also pushed them back into the top 25 for the first time since a loss to Arkansas in Week 2.
Oklahoma has struggled, despite a 5-0 record. The offense, predicted to be the best in the nation, ranks just 43rd in yards per game. Four of the Sooners' five wins have come by a touchdown or less.
Despite this, Steve Sarkisian isn't going to let his players take Spencer Rattler lightly. After being benched in the first half of the Red River Rivalry game last year, the quarterback rallied to finish with 209 yards and three touchdowns in a four-overtime classic.