Steve Sarkisian discusses the balance of playing two sports for Brenen Thompson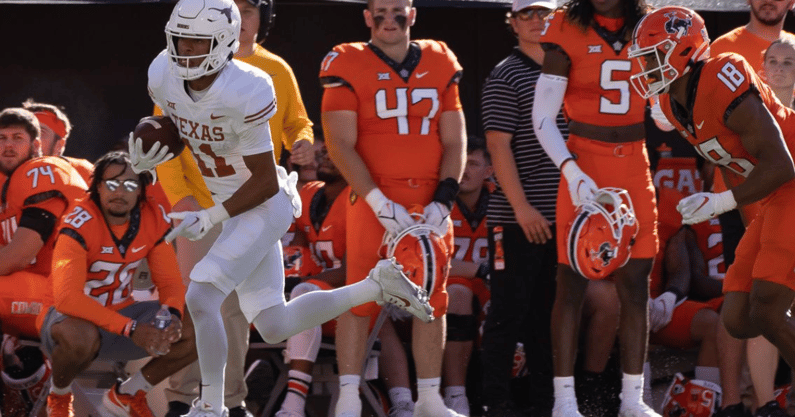 Brenen Thompson is a two-sport athlete for Texas, playing football in the fall and running track in the spring. That means the former four-star wide receiver recruit is focused on the oval this time of the year.
Longhorns football head coach Steve Sarkisian is quite okay with that. He trust Texas track and field head coach Edrick Floréal and believes the experience is going to make Thompson better in the long run.
"I think that that's always challenging when a player plays to sports," Sarkisian said at a Tuesday media availability. "It's not only could become physically taxing if you've asked them to do both, it could be mentally taxing. Our thing for Brenen is fast is fast. I feel like him working with Flo and running track this spring is only going to benefit him in the fall from a speed standpoint. His speed is a real factor. We saw a couple glimpses of it last year. We're hopeful we see more of it in the fall."
Thompson played in nine games as a freshman, catching one pass for 32 yards.
He was the No. 101 recruit in the 2022 On3 Industry Ranking. The On3 Industry is a proprietary algorithm that compiles ratings and rankings from all four major recruiting media services. The On3 Industry Ranking is the most advanced, complete and unbiased rating and ranking measurement in the industry.
On3 was highest on him in the industry, ranking him as the No. 71 prospect and No. 11 wide receiver in the class.
That speed was a major reason why. Brenen Thompson won two Texas 3A State Championships in the 200 meters, winning his junior and senior seasons. He also won the 100 meters as a senior and was runner up in the race in 2021.
"Flo's one of the best in the world at what he does," Sarkisian said. "I trust Flo is going to make sure that he's running right and running well and in great shape. I think it was funny. When Brenen first went out, I think football shape and track shape are two different things.I think getting back on the track was was a challenge for him early on. I trust flow. Obviously we have to work together from a scheduling standpoint of what that looks like for Brenen. But at the end, we'll get a good player back. Schematically he's been in the system for a year. He's just got to get back in the fold in the summer when we get going."