Steve Sarkisian discusses the future of Gary Patterson on Texas staff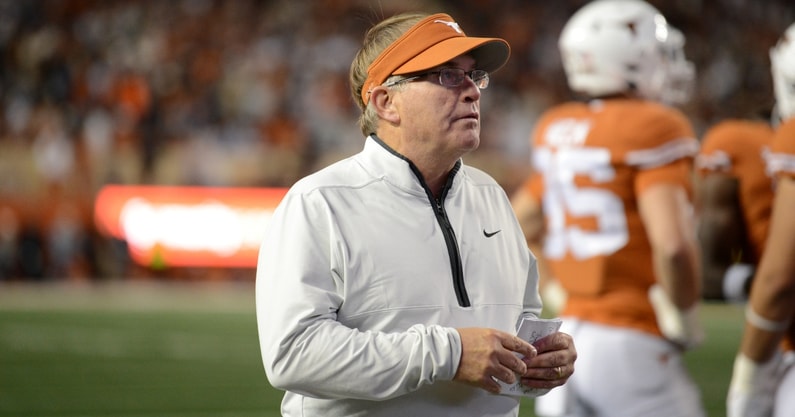 What the college football off-season just around the corner, expect the coaching carousel to begin to move. One of the likely individuals to receive a ton of head coaching opportunities is Gary Patterson. Patterson is currently the special assistant to the head coach at Texas. But with his 20 years of head coaching experience, all at TCU, he could find himself at the head of the line for some of the vacancies around the country. With that thought looming in the air, Longhorns head coach Steve Sarkisian recently discussed Patterson's future on the Texas staff.
"As far as Gary, you know, the offseason is the offseason; that's what it's for," said Sarkisian. "People make choices and decisions in their life and in their careers for what they need to do. We're obviously very grateful and thankful for Gary and what he has provided to our program. If it works out to where he can come back, I would love to have him; we would love to have him. I'd welcome him back with open arms. But again, he's gotta make choices and decisions just like every other member of our staff does of where they want to go in their future."
Nothing is set in stone with the Longhorns assistant to the head coach. But given Patterson's coaching expertise, it is more than understandable if he were to accept a head coaching position elsewhere. For now, Texas and Sarkisian will just have to wait until Patterson makes his decision on his future.
CLICK HERE to subscribe for FREE to the On3 YouTube channel
Rece Davis, Kirk Herbstreit discuss Texas back in the top 25
The College Football Playoff top 25 was just revealed, and the Texas Longhorns have made it back on the list. After an impressive victory over Kansas on Saturday, Texas has climbed back into the top 25 and is sitting at No .23. The College Football Playoff reveal show tandem of Rece Davis and Kirk Herbstreit gave their thoughts on the Longhorns making it back into the top 25.
"Texas is back in there and still with the chance, Kirk, to get to the Big 12 championship game; should they win and Kansas State loses this weekend," said Davis.
"Yeah when we all left Austin that night, after the way they lost to TCU a couple weeks ago, you wondered where they would be fighting back that next week," said Herbstreit. "And they showed a lot of heart. Here they are at 7-4 with one more game to go."