Steve Sarkisian evaluates performance of Texas defensive staff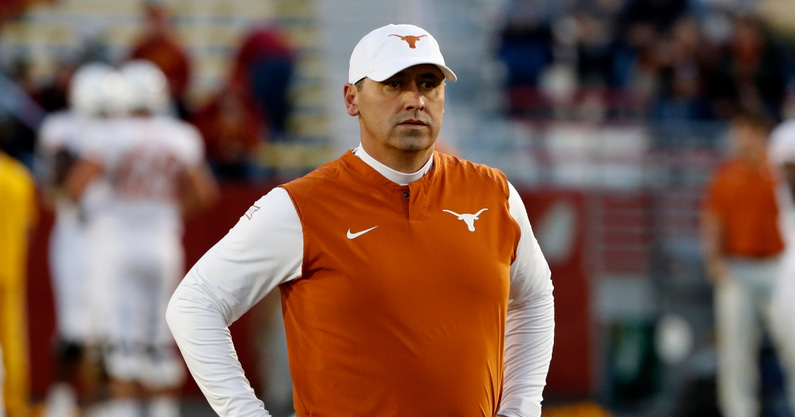 Steve Sarkisian isn't having a great first year with Texas. While the Longhorns started the season 4-1, Sarkisian's squad hasn't found a win in their last six tries.
When playing as bad as Texas is at the moment, all units are responsible. In a press conference earlier this week, Sarkisian evaluated the performance of his defensive staff.
"They're experienced. They're great coaches. They've done it for a long time at a high level. You can look at every guy's resume and what he's done in his career and know we've assembled a tremendous staff," stated Sarkisian. "Ultimately, they're aware we need to play better on that side of the ball. Just like we need to play better on the offensive side of the ball, and on special teams.
"These guys have been doing it at a championship level for a long time. I'm sure they have rough years in their past before. Those tough times haven't lasted, those guys have. They've figured it out, turned it around and have coached football at a high level for a long time."
The Longhorns defensive coaching staff isn't without talent. Led by Pete Kwiatkowski, the unit should at least be better then they've been playing. With one final chance to show their stuff this weekend, Texas can end its season on a high note.
Sarkisian: 'I'm built for this' drama that comes with Texas job
Moreover, Sarkisian has had a rough first year on the job, to say the least. And with all the turbulence that is gone on this year, some have begun to question his tenure with Texas. But on Monday, at the Longhorns press conference, Sarkisian did his best to ease some of those doubts.
When asked about the turmoil that has surrounded himself and the program, the head man for Texas football took this confident stance.
"I'm built for it, that's how I feel," Sarkisian opened. "I'm built for this, you know. There's a lot that comes at you and I think my level of perseverance my level of compartmentalizing some of the issues that we've been faced with, hopefully, is a direct reflection of how our team deals with some of the things that that we've been faced with. And ultimately a lot of the things that we've been through this year I think you're actually going to be really good for us that have hardened us for potential things are going to come down the road for us.
"I can't envision that we're going to have another year exactly like this with some of the things that we've been faced with — some of the heartbreaking losses, some of the things that have occurred off the field. But what I do know is if and or when some things arise again, I think that our team is now built for it as well."