Steve Sarkisian explains the growth he's seen in Hudson Card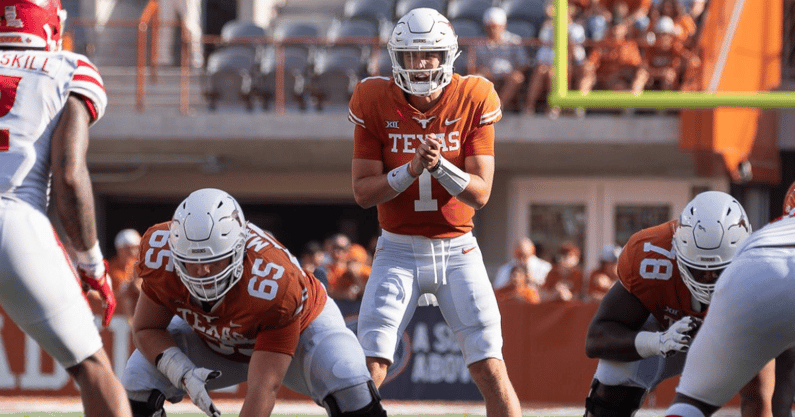 Hudson Card has run the gamut of emotions in his two years and change at Texas. He oversaw a head coaching switch, was named a starter for a season then demoted the next. Yet here he is, as a junior, finding ways to contribute. His presence doesn't go unnoticed by his head coach, Steve Sarkisian.
When asked about Card at a recent press conference, Sarkisian defended Card after a turbulent 2021 season and shared how proud he was of him for his mental and physical development over the last couple years.
"Well I think Hudson has really matured mentally," Sark shared. "I think he's more than capable of operating our offense, doing it at a high level. But I think our team has too (matured). You know, I feel bad when you guys as me questions like that. Because it's like Hudson was the reason we got the breaks beat off us at Arkansas last year."
But no, the blowout loss was not his fault, according to Sark. "We played terrible as a team," he continued. "We coached terrible as a staff. Didn't have our team ready to play. And so, naturally, as the quarterback goes, you get more credit than you deserve when things go well. And you get more blame than you deserve when things don't go well."
With Card taking a step up ahead of this season, Sarkisian now has a backup he can rely on — and has already relied on. A veteran guy that's been with the program longer than anyone with a headset. Here were Steve Sarkisian's final comments on the matter, praising Card for his resiliency in the face of unpredictable situations all around him.
"So he'll be ready to go when his number's called. Like I said, he's matured quite a bit. And I'm proud of him. This journey here has not been an easy one for him. You know, you get named the starter, then we change starters. Come back, you compete your tail off and you name another guy the starter. An injury happens, you step in, play well. Banged up, you continue to fight through it. So, like I said, I've been really proud of Hudson and all that he means to our program. We're really lucky to have him."
Hudson Card. The consummate backup QB.