Steve Sarkisian provides injury update on Cole Hutson after being carted off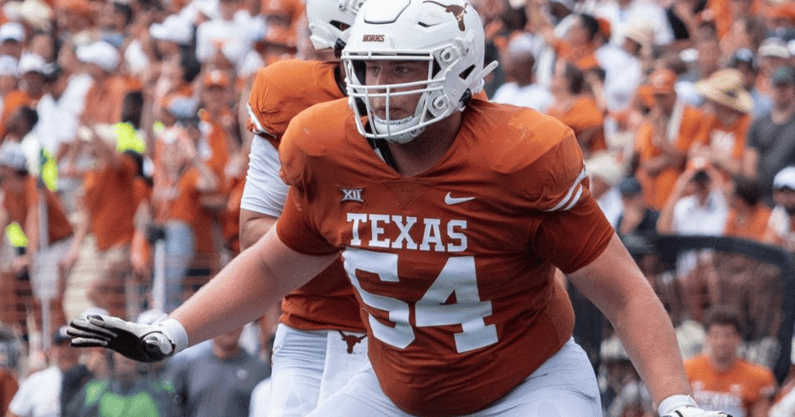 Texas' true freshman right guard Cole Hutson had to be carted off the field with under 90 seconds remaining in the first half against Baylor Friday after teammate Andre Karic fell onto his right knee during the Longhorns' final drive of the half.
Head coach Steve Sarkisian updated the status of the standout freshman following the game.
"He's going to get out, MRI and all that today," Sarkisian said after the game Friday. "We'll see. It's a lower leg deal, so we'll see what the significance of that is."
CLICK HERE to subscribe for FREE to the On3 YouTube channel
The results of the MRI are unknown as of this report, but it was bad enough that the Longhorns' medical team had to take a cart to get him off the field in the first place. Sarkisian even left the sideline to check on Hutson – never a good sign for any player.
A miscommunication on the offensive line led to a sack of quarterback Quinn Ewers on the subsequent play, which stalled what was a fairly sloppy drive after Hutson's injury.
Still, Texas came out of the regular season finale victorious, defeating the Bears 38-27 after a late fourth quarter flurry separated the Longhorns from their in-state conference foe. Entering halftime trialing 19-17, Texas would outscore Baylor 21-8 in the second half en route to victory.
"This was one game in particular where we showed a great deal of resiliency," Sarkisian said. "I think that's a really positive step for us as a program, and a moment that I'm very proud of of these guys. Spotting (Baylor) 9-0 right off the bat, bouncing back and getting the lead, giving them the touchdown before the end of the half and coming in the locker room and nobody panicking, then coming out and get the lead again, then turning it over, them scoring, nobody panicking, and us continuing to fight in that fourth quarter. I think in all three phases … the story of this game is about resiliency and continuing to fight and fight the right way."
Now, Texas (6-2, Big-12) will await the outcome of No. 12 Kansas State vs. Kansas. A K-State (6-2, Big-12) loss will earn the Longhorns a spot in the Big 12 Championship against No. 4 TCU, while a win will force Texas out of the championship game entirely.