Steve Sarkisian says he 'feels good' about receiver Agiye Hall's transfer status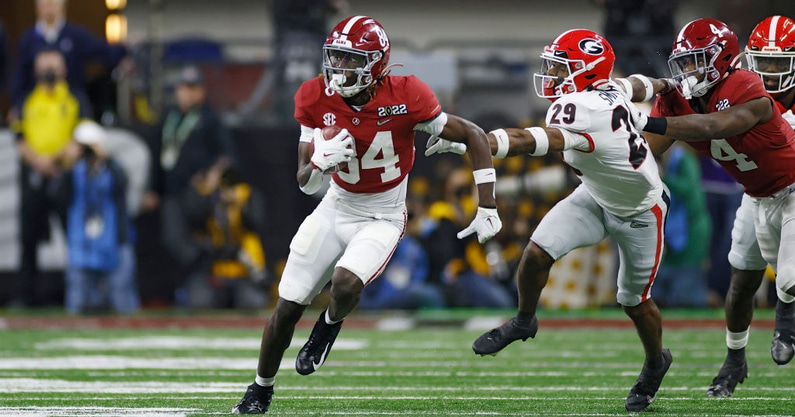 While speaking about the status of former Alabama receiver Agiye Hall and him joining Texas, Steve Sarkisian was optimistic about the transfer. Hall had recently deleted all social media posts on his accounts related to Texas, causing many to wonder if his transfer to the Longhorns was official.
Steve Sarkisian on Agiye Hall signing
"At a Texas Exes speaking tour, coach Steve Sarkisian said he 'feels good' about Alabama wide receiver transfer Agiye Hall's status because he has already signed a financial aid agreement," explained The Athletic's Sam Khan Jr. "FYI, those tie school to player, not player to school."
As Khan Jr points out, the financial aid agreement that was signed by Hall is not something that binds him to attend school at Texas this season — it binds the Longhorns to him if he chooses to enroll. On3 Sports' Joe Cook added that Sarkisian also explained another recent controversy regarding Hall's transfer — that he was not listed on the Texas roster online.
"He was never on our roster because we don't put players on our roster until they arrive. We feel good about that," said Sarkisian via On3's Joe Cook.
Longhorns fans may have to continue to wait for any official word from Hall or Sarkisian it appears, but the nature of his comments have led some to believe there's confusion on the coach's end as well. However, Sarkisian offered a possible explanation for the confusion when he implied that Texas was part of his social media scrubbing.
"Texas coach Steve Sarkisian asked about incoming wide receiver transfer Agiye Hall and the hubbub about him scrubbing his social media profile. 'We might've had a hand' in that. Says Hall has signed scholarship paperwork," stated Brian Davis of the Austin American-Statesman.
Hall announced his decision to transfer to Texas in April, not long after he was suspended from the Crimson Tide team due to unspecified rules violations. He made headlines after claiming that Alabama fans weren't "very loving," and indicated that Texas was his destination because they made him feel like part of a family. Hall has also made waves on his social media since his decision by appearing to comment on his former coach, Nick Saban, when Saban stated that their backup receivers last year failed to take advantage of their moment in the College Football Playoff Championship Game.