Steve Sarkisian discusses what Texas is playing for vs. Kansas State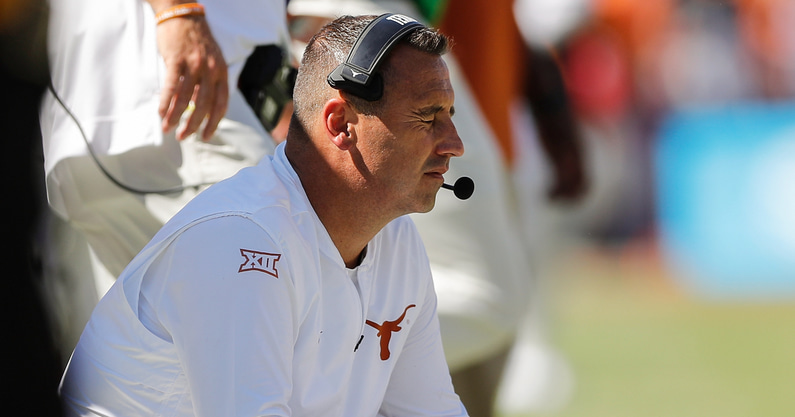 Steve Sarkisian seems to take the podium week after week, desperately seeking answers for the Texas Longhorns epic collapse in just his first year as head coach in Austin.
With a talented Kansas State coming to town for the final home game of the season, Sarkisian was asked if there is anything extra the team is trying to prove other than sending the seniors out on a positive note in their last outing in front of the home fans.
"Quite frankly, we had a really good team meeting last night and I recognize that some of the narrative is that the sky is falling," Sarkisian said.
The Longhorns head coach then shared a behind-the-glimpse look into the specifics of the meeting, which focused on all of the missed opportunities that have plagued his team during the 2021 campaign.
"We kind of went through it with the team," Sarkisian shared. "We were ahead 41-23 against OU in the second half. We were ahead against Oklahoma State 24-13 in the second half. We were ahead against Baylor 21-10 in the second half. We started the second half against Iowa State up 7-3. We come all the way back down 35-14 and were ahead 56-49 against Kansas, and last week, we are down 28-23 and we come back with the ball on the 20-yard line going in."
Sarkisian fully understands success in college football is ultimately decided by wins and losses, but has encouraged his team to not forget how close they have been to beating some of the top teams in the country.
"So as bad as it looks, because you are what your record says you are, I wanted to make sure our players understood that we are still really close," The Texas coach added. "And let's not lose sight of that."
In terms of the goals for Friday night's matchup vs. Kansas State, the Longhorns' first-year head coach laid out four main goals.
"Ideally, we would really like to play well on Friday and one, send a message to ourselves of what we are capable of," Sarkisian said.
"Two, send the seniors off the right way. Three, lets our fans know we are building this the right way. And four, that our future opponents know what type of team they are going to play next fall."
It won't be an easy test for Steve Sarkisian and company to right the ship vs. a (7-4) Kansas State team, but a victory would go a long way in giving fans, players and even the coaching staff hope for the future.