Steve Sarkisian, Texas look to improve fundamentals during a bye week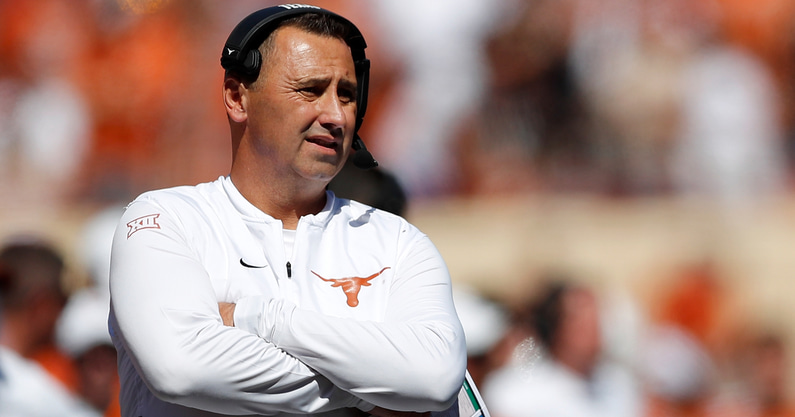 Steve Sarkisian has led the Texas Longhorns to an up-and-down start to the 2021 season, his first at the helm, and enters a Week 8 bye with a meager 4-3 record.
The highs — a Week 1 win over then-No. 23 UNLV, a 58-0 shellacking of Rice, a 70-point outburst in a win against Texas Tech and reclaiming the Texas-TCU rivalry — have made for a promising start to the Sarkisian era at Texas. But make no mistake: the lows have not been pretty.
Sarkisian's Longhorns blew an enormous first-half lead against Oklahoma, eventually losing the shootout, 55-48, after true freshman Caleb Williams brought the Sooners back from the dead. They got crushed by Arkansas in Week 2 as well; once thought of as a respectable loss, Arkansas has since fallen from grace, making the loss a stain on Texas' resume. And last week, Texas lost to No. 12 Oklahoma State despite 21-carry, 135-yard, two-touchdown performance from star running back Bijan Robinson, and Sarkisian just couldn't pull the trigger on his quarterback, switching out Casey Thompson for Hudson Card, despite Thompson throwing two interceptions.
Suffice to say, Texas has some work to do in its bye week.
"[Bye weeks] are pretty consistent with what we do," Sarkisian said. "We try to hone in: 'OK, where are we as a program? What's the state of where we're at today? What are the things we do well? What are some things that aren't doing so well? Are the things that aren't so well — are they worth investing in for the next six or seven weeks? Or are we really just going to keep focusing on the things we do well?'"
As Texas goes through the process of evaluating its weaknesses, perhaps Sarkisian will give Card another shot at quarterback — at least, in practice — with the first-team offense. When Sarkisian initially pulled Card for Thompson, he did it on short notice; Card didn't receive much opportunity before the head coach made a change for Texas. Last week, however, Sarkisian said that Thompson had earned a longer leash with his prior performances. But he ultimately failed to follow suit in Texas' loss to Oklahoma State.
"We do, as a staff, dig into Baylor from a game plan standpoint," Sarkisian said, as the Texas Longhorns face a top-25 Baylor Bears team after the bye on Oct. 30. "We wil sprinkle some of those things in throughout the practice. But the majority of the practice is making sure we recapture our fundamentals and techniques, because sometimes you get so scheme-oriented as the season goes on, and you start to lose some of those fundamentals and techniques that can help clean up the scheme."
Sarkisian and Texas will need to correct those fundamentals in the bye week if they hope to go toe-to-toe with Baylor. The game is particularly important for the Longhorns season, considering their next four — at Iowa State, against Kansas, at West Virginia, against Kansas State — are against four consecutive unranked teams.
"That's a big portion for us this week," Sarkisian said. "More individual periods, more position specific things and not as much team and scheme. We will still do it, but it's a little bit of a shift from what we would do in a normal game week."