Chris Del Conte again defends Texas coach Steve Sarkisian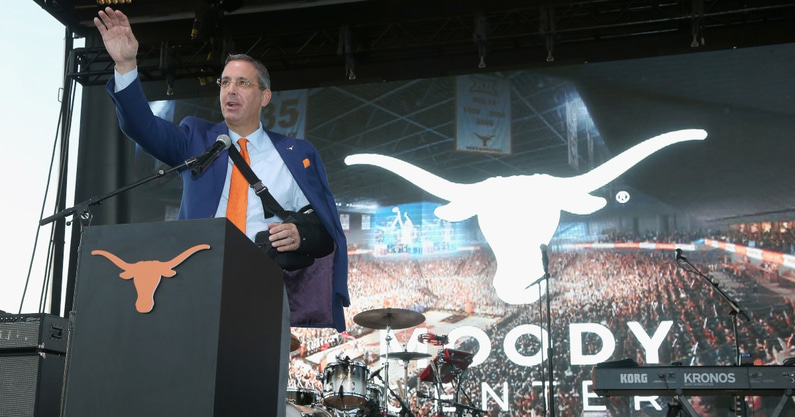 Steve Sarkisian's first season as head coach of the Texas Longhorns has not gone according to plan. Texas is just 4-7 on the season. With just one more game remaining on the regular season schedule, the Longhorns will not be bowl eligible this season. The Longhorns face off against Kansas State on Black Friday to wrap up the season. Despite the struggles, Texas athletic director Chris Del Conte has continued to support Sarkisian as the program's head football coach.
Del Conte sent out a message to Texas fans on Wednesday. There, he again backed Sarkisian as the Texas head coach.
"After the hard-fought 31-23 loss at West Virginia, I watched as several of our student-athletes, some younger ones and other veterans, spoke to the media along with Coach Sark after the game," Del Conte said. "I continue to be so impressed by how they handle themselves and represent our program. And I do know we have the right man leading it in Coach Sark with how he answered a question about handling the adversity and outside noise during Monday's press conference."
Del Conte echoes Sarkisian's recent comments about Texas' struggles
In a recent press conference, Sarkisian acknowledged the struggles for Texas this season. Sarkisian believes that this season will help Texas grow in the future, and Del Conte agrees.
"I'm built for it," Sarkisian said. "That's how I feel; I'm built for this. You know, there's a lot that comes at you. And I think my level of perseverance, my level of compartmentalizing some of the issues that we've been faced with is a direct reflection of how our team deals with some of the things that we've been faced with.
"And ultimately, a lot of the things that we've been through this year are actually going to be really good for us (and will) have hardened us for potential things that are going to come down the road."
Despite a frustrating and disappointing season for Texas, Del Conte is confident that the program is moving in the right direction under Sarkisian.
"We are Texas Tough and will bounce back," he said. "The pride and winning tradition of the Texas Longhorns will not be entrusted to the weak or the timid. We are built to handle any and every challenge sent our way, and our team got right back to work again this week."