Steve Sarkisian reveals how Texas landed multiple commitment flips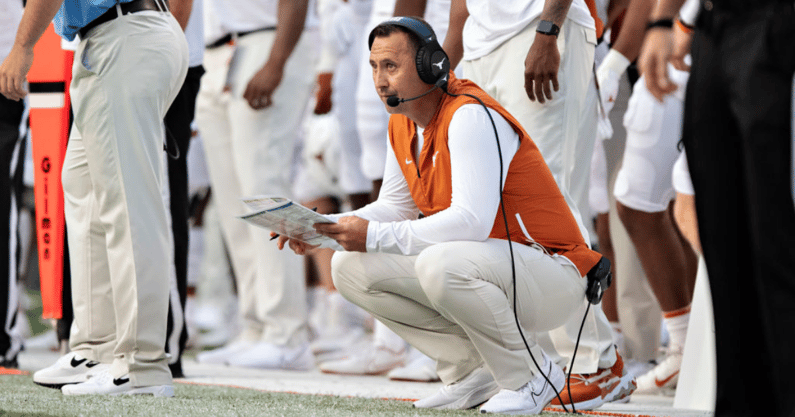 Steve Sarkisian and Texas' 2022 recruiting class certainly features a strong group of recruits, as the Longhorns have the fifth-best class in the 2022 On3 Consensus Football Team Recruiting Rankings. Sarkisian has landed 27 total commits – including one five-star and 18 four-stars – and Texas' class has a score of 92.327 by On3.
Last week's National Signing Day for the early signing period was a great day for the Longhorns, as they signed all 27 commits – highlighted by four-star cornerback Terrance Brooks' flip from Ohio State, three-star defensive end Ethan Burke's flip from Michigan and three-star athlete Xavion Brice's flip from Oklahoma.
During his early signing day press conference last week, Sarkisian revealed how Texas was able to flip the recruits that it did and discussed his approach on recruiting as a whole.
"To me, recruiting doesn't stop," Sarkisian said. "And in this day in age, it doesn't stop when you get them on your roster because guys can leave, which is crazy. But the reality of it is we just keep recruiting. How much better can we make the relationship? Making sure they know every aspect of our program, about us as people and we learn about them. I give our coaches a lot of credit – nobody backed off of it, whether it was Terry Joseph and his relationship and connection with Terrence Brooks and his family, whether it was Jeff Banks and his relationship with Xavion Brice and his family, whether it was the relationship with coach [A.J.] Milwee and coach P.K. [Pete Kwiatkowski].
"It's about relationships and it's about connection and it's about staying the course – and being honest with people, because sometimes we may not be able to offer a kid a scholarship early on because of the certain number of scholarships offered at that position already."
Texas is coming off a 5-7 season in 2021 after losing six of its final seven games.
Sarkisian discusses impact of Texas' move to SEC on roster building
This is an interesting recruiting class for Texas. Remember, the Longhorns are getting ready to move to the SEC, meaning the recruiting philosophy is going to have to change.
Longhorns coach Steve Sarkisian realizes that, and some of his signees reflect the future of the program.
"How we think roster-wise is maybe a little bit SEC-oriented," Sarkisian told reporters on National Signing Day. "Clearly, we want to be big up front, and I think that was a clear point of emphasis to what we were doing and how we were doing it, whether it was on the offensive or defensive line.
"That's a physical conference. We like to play a physical brand of football, regardless of who we're playing, so I think that that kind of went hand-in-hand with our approach, naturally, to potentially what could be down the road."