Steve Sarkisian on Texas quarterback plan, Hudson Card mindset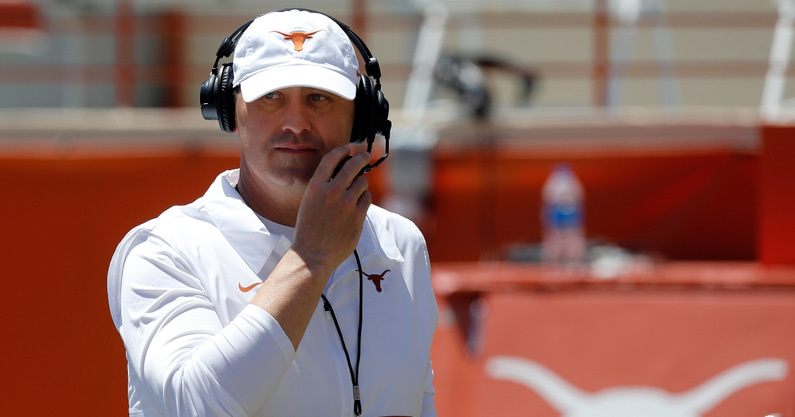 When the Texas Longhorns host Rice on Saturday night, Casey Thompson will trot out as the Longhorns' starting quarterback for the first time this season over Hudson Card. Card was the starter to begin the season, but after two games, head coach Steve Sarkisian is making a change. Card will still play in the game, but Thompson is getting his first opportunity to start.
Sarkisian: Hudson Card has handled himself well
In Texas' week one win over Louisiana, Card completed 14 of his 21 passes with 224 yards and two touchdowns. Thompson also saw the field in the game, completing four of his five passes for 41 yards and a touchdown. Last week's loss against Arkansas was a different story. Card struggled, completing eight of 15 passes for 61 yards. Thompson, meanwhile, threw for 57 yards, but also had 44 yards and two touchdowns on the ground.
While both quarterbacks will still see the field some against Rice, Sarkisian said that Card is likely a little frustrated to not be starting. But Thompson has earned the chance to see what he can do with the first team offense. Following the game against Rice, Sarkisian and Texas will reevaluate the position as Big 12 play nears.
"I think he's handled himself well," Sarkisian said of Card. "Let's be real, I'm sure there's a level of frustration for him. He wants to be the starting quarterback too. But as we've touched on with Casey in the past and it'll be the same with Hudson, Hudson's going to play Saturday night. And I fully anticipate when we play him that he'll play well. I think Casey's earned this opportunity to become a starter in this ball game.
"Then we'll really have to reflect coming out of this game of moving forward, what it's going to look like when we head into Big 12 play."
Texas is confident in both Card and Thompson
No matter who starts the game at quarterback, the Longhorns believe that both quarterbacks are capable of putting them in a position to win.
"I think the team believes in both of them," Sarkisian said. "That was evident from Week 1 against Louisiana, Week 2 against Arkansas. We'll put ourselves in position to make sure that both those guys are in a position to excel.
"I kind of like it because they're making it hard. That should be the characteristic of our team at every position. Every week, you just don't know because both guys are battling so hard. I appreciate that about both Casey and Hudson."