Steve Sarkisian has hilarious reaction to Oklahoma's Red River Rivalry dominance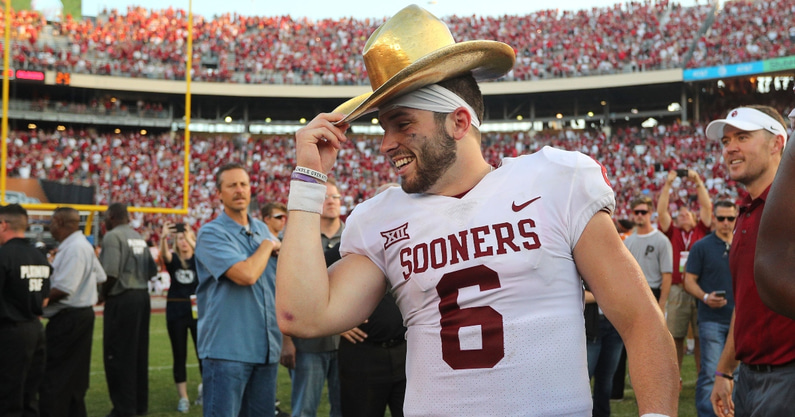 Texas and Oklahoma is a rivalry full of traditions, with one of the best being the game's trophy. Whoever ends up victorious at the Cotton Bowl gets to wear the Golden Hat — something the Sooners have had on their head more often than not. And even though Steve Sarkisian has been in Austin for one season, he's already sick of seeing the hat travel back to Norman.
During an event at the Touchdown Club of Houston, Sarkisian made a hilarious reaction when it came to the Red River River Rivalry. The Texas head coach wants to hoist the trophy and travel down I-35 with the Golden Hat on his head.
"I'm tired of them putting on the freaking hat, man," Sarkisian said. "I want to wear the hat!"
Since Mack Brown left the Texas program, the rivalry has been dominated by Oklahoma. Charlie Strong and Tom Herman were only able to get one win over the out-of-state foe and thus far, Sarkisian is 0-1. Last season's game saw the Longhorns get out to a commanding first-half lead before collapsing at the hands of now USC quarterback Caleb Williams.
This year will feature a new face for the second straight season but this time on the Oklahoma side. Brent Venables will be coaching in his first Red River Rivalry as a head coach. He's participated in the game plenty of times, though, serving as the program's defensive coordinator for over a decade.
Sarkisian will have a lot of goals for the 2022 season but based on his comments, near the top of the list is beating Oklahoma in Dallas. Especially after the poor start to his tenure last season, getting a rivalry win would be a great way for Sarkisian to get fans back on board by mid-October.
Steve Sarkisian comments on Alabama-Texas kickoff time
If Oklahoma is the top game on Sarkisian's mind, Alabama is most likely a close second. The Crimson Tide will be traveling to Darrell K Royal-Texas Memorial Stadium but it may be a hot one. With FOX announcing they will be broadcasting the game, kickoff could be scheduled for 11 a.m. local time in Austin.
Sarkisian commented on the possibility of having the early start time but did not seem too bothered. He said no matter when television networks schedule their games, Texas will go out there and play.
"We have a saying in our building," Sarkisian said at the Touchdown Club of Houston on Wednesday. "Just spot the ball. Just spot the ball and we'll play."