LOOK: Vince Young responds to Quinn Ewers arrival at Texas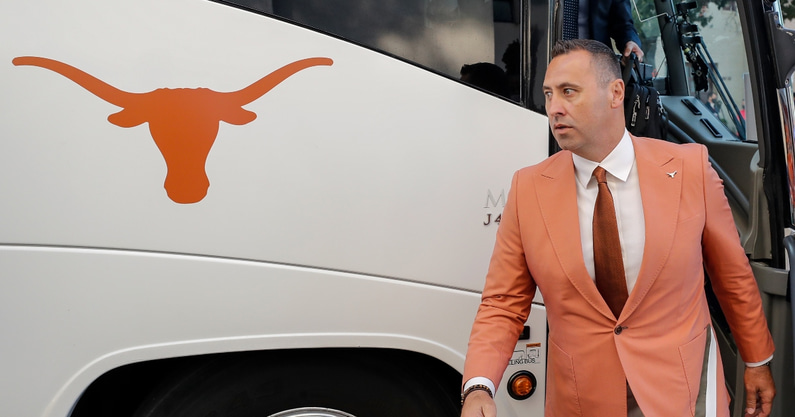 The biggest story early on in the transfer portal cycle was Quinn Ewers going from Ohio State and coming home to play for head coach Steve Sarkisian and Texas. The once Longhorn commit arrived in Austin and will begin class on Tuesday and got a head start on moving in.
Legendary Texas quarterback Vince Young reacted to Ewers arriving in Austin on Friday. He kept the message short and sweet, just saying out loud what the Ohio State transferring was showing in the photo.
"HookEm," Young said via Twitter.
Ewers was originally a member of the 2022 recruiting class and was the No. 1 player on the On3 Consensus. When the Five-Star Plus+ prospect reclassified to the 2021 class, he still held down the top spot and enrolled at Ohio State.
He only took two snaps for the Buckeyes, both handoffs in the blowout win against Michigan State. He entered the transfer portal shortly after the end of the regular season, with Texas and Texas Tech fighting it out. The Longhorns ended up winning.
Ewers will now be tasked with becoming the next great quarterback. to come out of Austin.
Steve Sarkisian on why Quinn Ewers is a special quarterback
During his national signing day press conference, Sarkisian detailed what makes Ewers such a special quarterback. He said the Southlake Carroll product has a big arm that will help Texas produce big plays down the field.
"I think Quinn, like Malik, has great arm talent," Sarkisian said. "Both guys have big arms. They are big guys, which is really helpful. They have the unique ability to throw the ball from different arm angles, throw it without their feet perfectly set, make throws off schedule down the field, and create opportunities for you, not just in the short field but down the field, explosive plays. He's put in a lot of work to get to this point. Hopefully, we do a good job to continue to develop him and get him to where he wants to be."
Ewers will head into spring camp looking to win the starting quarterback job. For the second consecutive season, it will be an open competition and Hudson Card will be involved again. Whoever winds up getting the start against UL-Monroe on Sept. 3 will have the tough test of facing Alabama just a week later.
If Ewers is getting the call, he will be tested early on during his time in Austin.