Steve Sarkisian analyzes impact of disappointing season on recruiting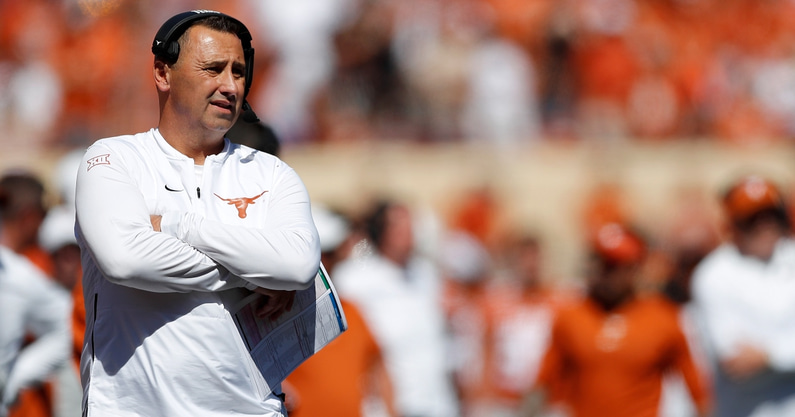 In Steve Sarkisian's first season at Texas, things have not gone to plan. The Longhorns are on a six-game losing streak, with a tough matchup against Kansas State to close out the season.
Despite the struggles, Texas has been recruiting at a decent level. There is still a lot of work to be done within the 2022 class but Sarkisian had done a good job with his first full cycle before the losing streak.
The head coach was asked if dropping six games in a row will affect how the class ends up looking like. He said the current commits are bought into the University of Texas and what the blue print looks like.
"I don't think so," Sarkisian said. "I think the kids that are potentially looking to come to the University of Texas — one, we got a heck of a class committed to us already that we value the competitiveness of the young men. We value the football IQ, we value the pride in which they play with. We value the humans they are, the type of people they are. And then two, I think the ones that are considering, I think see the blueprint of what the potential can look like here with the way we are going about our business. A lot of time, there are the kids that only look at the direct result of what a record could be or is."
Sarkisian: "We're in year one"
Sarkisian emphasized it's only year one of him being in Austin and if it were a little down the road, then there would be cause for concern. He even possibly threw an indirect shot at Texas A&M head coach Jimbo Fisher.
"The reality of it is, we're in year one. Did it go exactly the way we wanted it to? No. If this was year four and we had multiple losses and we were not competing for a conference championship, then I would be really concerned. If I was in year four of our program and I had three or four losses right now and I have been banging this drum of where we're going to be four years from now and we still aren't there, then I would be concerned. We're in year one, we're in the building phase of where we're heading as a program. In year four, if I am sitting here with three or four losses, then I would probably be more concerned."
Thanksgiving has been good and bad for Texas is in the recruiting world. On3 Consensus four-star cornerback Jaylon Guilbeau flipped from TCU, while four-star running back Jamarion Miller switched his commitment to Alabama.