Steve Sarkisian reveals his thoughts on Mike Gundy, Oklahoma State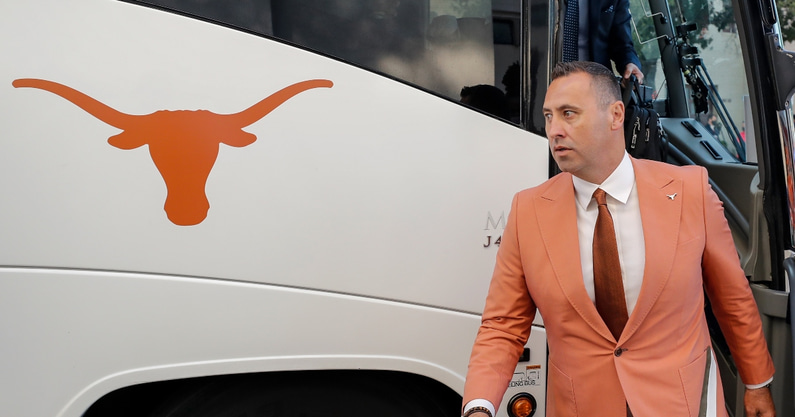 The Texas Longhorns are gearing up for another fierce battle this Saturday against the Oklahoma State Cowboys. While going over his game plan and expectations for this week's upcoming battle Texas head coach Steve Sarkisian addressed the battle of the head coaches. This week, he will face off against Mike Gundy in a battle between two of the nation's top offensive-minded head coaches.
"I have never coached against coach Gundy. He's a great coach and he's been doing it a long time at a high level," said Sarkisian on Gundy. "One thing I appreciate about him is they've kind of reinvented themselves in Stillwater. They were pass-happy outscoring a team to now they are a defensive football team. They are a veteran team, play tough very physical, they run the ball. So they reinvented themselves with a new identity, and that's the sign of a really good coach. You know that you play to the strengths of your team; so a lot of credit to him."
Gundy at Oklahoma State
Gundy took over the head coaching reins at Oklahoma State back in 2005. He was originally the team's offensive coordinator from 2001-2004. He was promoted to head coach after Les Miles took the opening at LSU.
Since taking over the position, he is 142-67 as the head coach with a 10-5 bowl record. His most successful year with the Cowboys is their 2011 season. That year, he led the team to its first Big 12 championship since 1976. And, it was also the first outright conference championship since 1948. The year culminated with Oklahoma State's only BCS game in school history. And, they defeated the Stanford Cardinals 41-38 in overtime at the 2012 Fiesta Bowl.
Over his 17-year coaching span at Oklahoma State, he has coached a total of eight consensuses All-Americans. All eight of which you were on the offensive side of the ball. That list includes names like Dez Bryant, Justin Blackmon (a two-time All-American), Russell Okung, and most recently Chuba Hubbard.
This year's Oklahoma State team has operated differently from what they've done in the past. Traditionally under Gundy, the Cowboys have been a shootout-style kind of team. But presently, they are winning games on the strength of their defense. On the season, they are allowing just 18.6 points per game, third-best in the conference behind Iowa State and Baylor. They also ranked second in the conference and total yards allowed per game at 305.2
For Sarkisian and the Longhorns, this game has all the makings of a defensive battle. This may be his first battle with the Oklahoma State headman, but he'll definitely want to start this rivalry out with a win.