Texas Longhorns suffer their worst loss in five years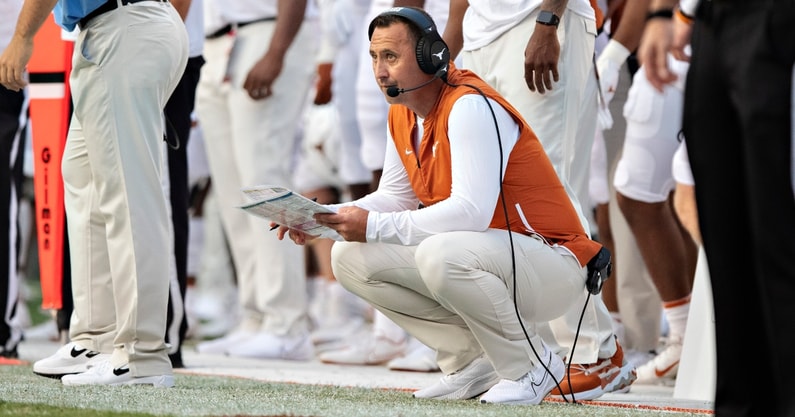 The University of Texas just suffered a worse loss than they ever experienced under previous head coach Tom Herman. It is only two weeks into the Steve Sarkisian era and the Longhorns just received a beat down from the Arkansas Razorbacks 40-21. The Longhorns managed to score late to make the final score more respectable. But the game itself was a one-sided affair.
The Herman era at Texas
Herman's was brought in for the 2017 season to replace Charlie Strong. In Strong's three seasons at Texas, he failed to have a single winning season. Herman on the other hand had a winning season in each of his four-season at the helm for the Longhorns. The former Houston Cougars head coach finished all but one season ranked in the AP top 25 at Texas. And the Longhorns never lost a bowl game with him. His biggest win at the school came when he led them to a 28-21 victory over the Georgia Bulldogs in the 2018 Sugar Bowl.
If Herman did have blemish at Texas, it would be his record against arch-rival Oklahoma. Against the Sooners, he was 1-4 including their loss to them in the 2018 Big 12 championship. His worse loss to them was in that game by a score of 39-27. All the other games were decided by a touchdown or less.
His biggest loss at Texas was a 24-7 defeat at the hands of TCU in 2017.
A new era under Sarkisian
Sarkisian was hired this offseason by Texas after orchestrating one of the greatest offensive seasons in NCAA football history the year before at Alabama. For the Alabama Crimson Tide, he was offensive coordinator and quarterbacks coach for two seasons and acted as the interim head coach in Nick Saben's lone absence against Auburn last year. He left the Crimson Tide a national champion and was the recipient of the Broyles Award. That award is given to the nation's top coaching assistant.
In the game against Arkansas, the offensive guru's offense struggled to move the ball all night long. Still, the biggest issue for the Longhorns was stopping Arkansas' running game. According to ESPN Stats & Info, "Arkansas rushed for 333 yards, the most against Texas since 2016 (Baylor – 398)."
With this only being the second game of the season it's too early to call the season, much less Sarkisian's tenor unsuccessful. But if things continue down this path, one could make a good argument that the Longhorns should've never moved on from Herman.