Why did Arch Manning choose Texas?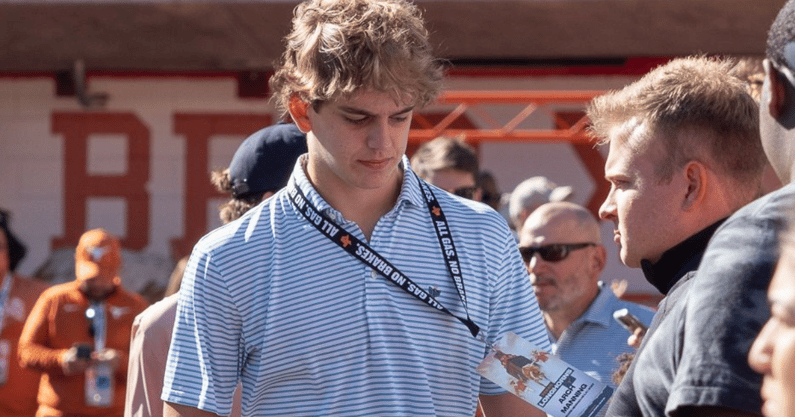 Five-Star Plus+ quarterback Arch Manning is heading to Texas. But why?
On3 National Recruiting Analyst Gerry Hamilton, Director of Recruiting Chad Simmons and National Recruiting Analyst Sam Spiegelman have been tracking Manning's recruitment very closely for more than a year.
They each come from different backgrounds on the subject, but they all agreed that there were certain things the Longhorns did to land Manning.
"I think Texas just checked all the boxes, and there's been a lot of boxes for Arch," Spiegelman said. "That's why he's taking such a calculated approach. There's a lot of football boxes as well as non-football boxes."
Arch Manning chose Texas because of Steve Sarkisian
The relationship between Arch Manning and Steve Sarkisian blossomed as soon as the two first talked football, and it has grown from there.
"I think it goes back to his relationship with Sark and his quarterback development over the years and the offense that he runs," Simmons said. "I've said for the beginning, I think he had the best relationship with any coach with Steve Sarkisian. I think him being the head coach, the offensive mind, quarterback developer, I think that is really what put Texas over the top."
While Texas' offense was hot and cold this past season, Sarkisian success at Alabama and previous spots demonstrate his ability to develop quarterbacks. Sarkisian and Manning have bonded over system learning and the mental side of game.
Sarkisian has also had the backing of some of the Mannings' closest confidants.
"When you get to the football side, look, it's all quarterback development — it's Steve Sarkisian," Hamilton said. "He got checkmarks from Peyton Manning, Eli Manning, Archie Manning, David Cutcliffe, you name it.
Steve Sarkisian wasn't the only coach who made a good impression on Arch Manning during his recruitment.
"A.J. Milwee did a fabulous job in the recruitment as the Steve Sarkisian as did a good assist from Kyle Flood," Hamilton said.
Spiegelman also noted the impact of director of recruiting Brandon Harris and secondary coach Terry Joseph in building bridges in Manning's recruitment. Joseph's Louisiana roots were crucial opening the door to put Texas on the path to land Manning. Harris also did a great job keeping up with Manning and engaging him with the program.
The other coaching aspect that was a major plus in Texas' favor was the potential stability of the program. Manning understands the nature of assistant coaches jumping to different schools, Spiegelman said, but he was looking for a place where he could learn and grow under the same people for as long as possible and not have to worry about people leaving.
"They've given Arch an indicator that there's stability, that this program is on the upswing," Spiegelman said.
Arch Manning chose Texas because of the city of Austin
College life is important to Arch, and the city of Austin, Texas, is one of the best college cities in the country.
"You have to also take into account he wanted to be a college kid," Simmons said. "Austin is a great college town. It's a great university, a lot of people, very diverse. I think he loved that part about it too."
Manning has a low profile on social media and his coach calls him a humble kid. Being the BMOC as a freshman did not seem to be something he was looking to do.
Spiegelman notes that both Athens, Georgia, and Austin stood out as Manning's favorite college towns.
"First off, I think, as a student, he loves the University of Texas," Hamilton said. "He loves Austin. He loves that he can not be the biggest name in Austin. You have the Elon Musks of the world, the Joe Rogans of the world, Matthew McConaughey versus smaller college towns where he might have been the most popular guy."
Manning had his official visit to Texas this past weekend, and Speigelman believes the trip answered Manning's questions about the non-football aspect of his college experience.
"I think that ultimately is what drove not only Arch but mom and dad over the edge as well," Speigelman said. "Life away from football has continued to be an element for Arch and Austin. And Texas both check those boxes for him. I think the official visit sort of cemented that for Texas leading into today."
When you combined the city of Austin with the coaching staff and the relationship and trust in Sarkisian as a quarterback developer, Manning saw it as a perfect fit.
"When you marry it all together," Hamilton said, "that's why Arch is at Texas."