Dorian Thompson-Robinson says bowl game status is 'to be determined'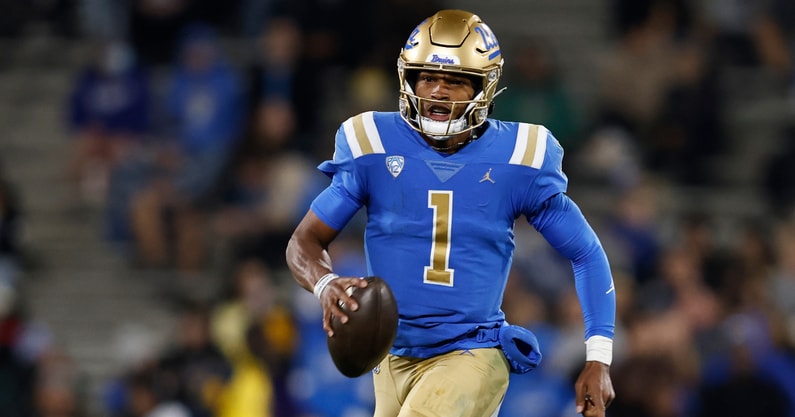 Dorian Thompson-Robinson put together an impressive regular season for UCLA to help the Bruins to a 9-3 record after Friday's win over Cal. But since they're not going to the Pac-12 Championship, the question becomes whether or not he'll wear a UCLA uniform again in a bowl game.
He said that's "to be determined" — but there's one bowl game he'd have a hard time missing.
If UCLA plays in the Las Vegas Bowl, the Bruins would play in Thompson-Robinson's hometown. That would be a fitting ending to his career, which included two second team All-Pac-12 selections and another banner year this season.
CLICK HERE to subscribe for FREE to the On3 YouTube channel
As a fifth-year senior this year, Thompson-Robinson threw for 2,883 yards and 25 touchdowns while also contributing 631 rushing yards and 11 touchdowns on the ground. UCLA capped off its regular season with a 35-28 win over Cal and will now await its fate in bowl season.
Lincoln Riley excited about the trajectory of football on the West Coast
If you missed last week's battle for Los Angeles between UCLA and USC, you missed arguably one of the best games of the season. As USC head coach Lincoln Riley recently put it, it highlighted the trajectory of college football in California.
Riley said he's excited about the trajectory of football on the West Coast and, most notably, for his Trojans.
"I think that people need to recognize that a lot of things have changed. This program is on a great trajectory. Chip's done a phenomenal job over at UCLA," Riley said. "The home games at UCLA need to look like that. Our home games need to be full. They do. And the products are there. I think there's certainly a part of putting the product out there, but once the product is out there, people have to see it. People have to recognize it.
"Like I said the other night, every single person that was there. Every one of them was glad they were there. Whether they were UCLA fans or USC fans, it was a great experience. And that's what sports should be like. And then there's going to be a lot of people that wish they had been there, that had a chance to go."