Report: Ed Orgeron not involved with open UNLV job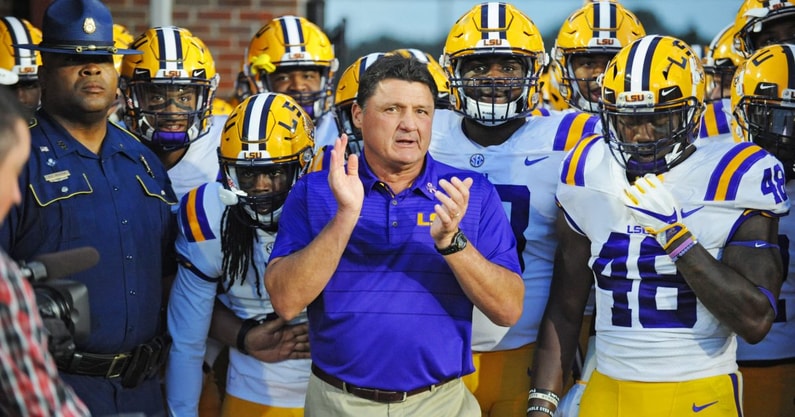 A name being discussed with the open UNLV job is national championship-winning and former LSU head coach Ed Orgeron. However, according to Bruce Feldman of The Athletic, the rumors are not true. Feldman said Orgeron has "no interest" in heading to Las Vegas to work for the Rebels.
Just spoke to Ed Orgeron," Feldman began. "He's not involved in the UNLV coaching search nor has heard from anyone there, and he told me he has no interest in the job."
Orgeron took this season off from coaching in college football and could be doing the same during 2022. He was fired from LSU just two years after famously winning the 2019 national championship, being one of college football's best-ever teams. However, the magic could not be remade once Joe Burrow and a roster littered with NFL talent left Baton Rouge.
A program out West would be no stranger to Orgeron either. He has multiple stints in Los Angeles with the USC Trojans, reaching as high as the interim head coach in 2013. He also served as the defensive coordinator and held multiple position coaching jobs.
However, Orgeron will remain on the open market for the time being. If he is ever going to return to college football, UNLV will not be the place.
Gary Patterson possible name for UNLV job
Gary Patterson is someone to "keep an eye on" for the vacant UNLV head coaching job, Feldman reported in late November. The former TCU Horned Frogs headman has spent the past season with the Texas Longhorns, serving as an analyst for head coach Steve Sarkisian.
"Interesting name to keep an eye on with the UNLV coaching vacancy: former TCU coach Gary Patterson," Feldman said via Twitter.
Patterson and TCU may have gone their different ways during the 2021 season but he's still a legend in Fort Worth — and with good reason. He helped the Horned Frogs get on the national stage and eventually into the Big 12 Conference.
In 21 full seasons, Patterson had a winning record in 15 of them. The peak came during the 2010 run, getting as high as No. 2 in the AP poll. TCU won the Rose Bowl that year as well, defeating Wisconsin in one of the biggest wins in program history.