4-star PG Dedan Thomas commits to UNLV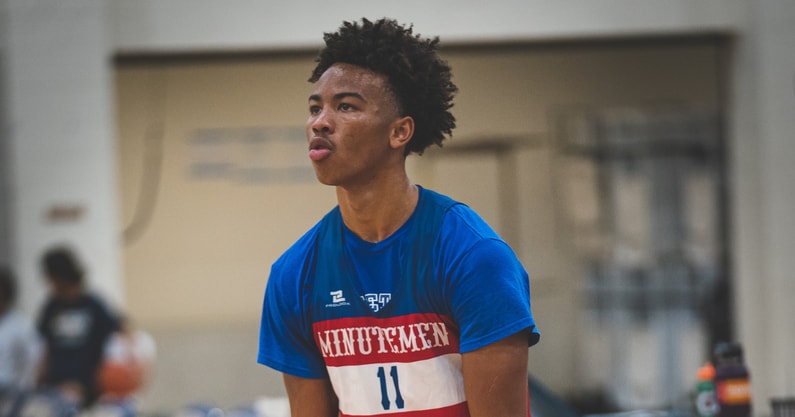 Dedan Thomas, a four-star point guard in the class of 2024, has committed to UNLV, he told On3.
The 6-foot-1, 170-pound junior out of Henderson (Nev.) Liberty chose the Rebels over UCLA, Arizona, Florida, Houston, and Gonzaga.
According to the On3 Industry Rankings, Thomas ranks as the No. 30 overall prospect in the 2024 class. He's also the nation's No. 5 point guard and the No. 1 player in Nevada.
Thomas broke down his decision to stay home and attend UNLV with On3.
"I stayed home because I felt the most comfortable," he said. "I got a special feeling about the school that I didn't get anywhere else."
Thomas breaks down his game, what UNLV is getting in a player
"A floor general," he says. "A high IQ, smart point guard. I know how to run a team and make others better and score when I need too. I play very fast as well. UNLV is getting a point guard, lots of characteristics go under point guard but I base myself off of being tough and smart."
On3 NIL Valuation
Dedan Thomas currently holds a $87,000 On3 NIL Valuation.
The On3 NIL Valuation is the industry's leading index that sets the standard market NIL value for high school and college athletes. A proprietary algorithm, the On3 NIL Valuation calculates an athlete's NIL value using dynamic data points targeting three primary categories: performance, influence and exposure.
About On3 NIL Valuation, Brand Value, Roster Value
While the algorithm includes deal data, it does not act as a tracker of the value of NIL deals athletes have completed to date, nor does it set an athlete's NIL valuation for their entire career.
The On3 NIL Valuation accounts for an athlete's roster value and brand value. Roster value is the value an athlete has by being a member of his or her team at his or her school, which factors into the role of NIL collectives. Brand value factors in an athlete's personal brand and the value it could bring to regional and national brands outside of the scope of NIL collectives.