Andy Enfield critical of star guard Boogie Ellis' play vs. Michigan State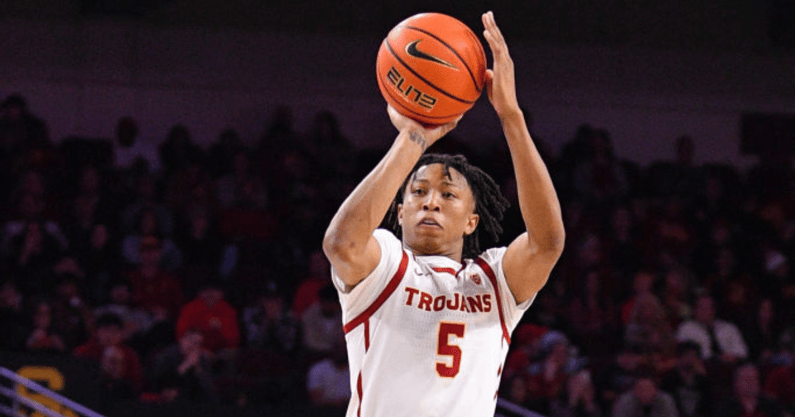 USC's star guard Boogie Ellis got off to a rocky start from the field in the Trojans' first round game of the NCAA Tournament against Michigan State. He didn't score for most of the first half and clanked a few shots. But when CBS caught up with head coach Andy Enfield during that first half, the USC head coach maintained his belief in Ellis, saying he just has to be patient looking for his shot.
"He has to be patient with shot selection. He's a lead guard, so it has to be a good combination of shooting the shot when he's open and making plays for his teammates," said Enfield.
Coach Enfield was then asked if he thought Boogie Ellis was playing too rushed to start the game. His answer:
"No, I just think he tried to go one-on-one few times. He's a great player so we expect more from him."
Right after those comments, Ellis had a terrific drive and dish to big man Joshua Morgan, who flushed down a dunk to cut into the Michigan State lead and help spark a run towards the end of the half. He even got his first bucket with a slick mid-range jumper to cut the lead to one with three minutes to play.
Ellis is the team's leading scorer this season at over 18 points per contest while he and versatile wing Drew Peterson share lead ball-handling duties. The senior guard also earned All-Pac 12 honors for his play this year after making the 2022 All-Pac-12 Tournament team in 2022.
Before the game, Michigan State head coach Tom Izzo made sure to emphasize what a great player Ellis is for USC while noting that his team has to keep a handle on him. "I'm telling you, they have a guard that's as good as any guard we faced this year in Boogie Ellis," said Izzo in the lead-up to Friday's game. Clearly the gameplan for slowing him down as a scorer is working early on, although Ellis has been more than fine with playing the passer role and creating opportunities for others while the Spartans key in on him.
Trojans and Spartans doing battle right now on CBS like they did back in the Bronze Age. A trip to the Round of 32 on the line with the winner of this one facing either No. 2 seed Marquette or No. 15 seed Vermont, who play later in the day.