Andy Enfield says Reese Dixon-Waters did not play for USC due to injury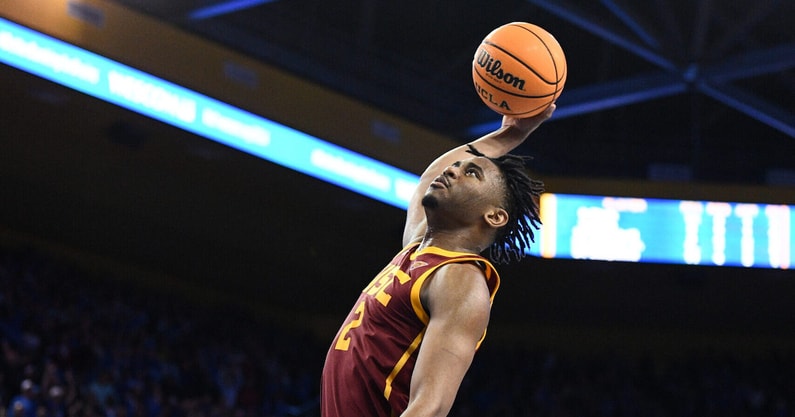 Reese Dixon-Waters missed USC's 80-74 victory over Washington with an injury.
Trojans head coach Andy Enfield said the sophomore guard from Long Beach is "day-to-day" with an injury.
"It was pretty, pretty bad," Enfield said after the game. "It's an injury. We're hoping with five days or six days, he'll be able to go."
Dixon-Waters is a key bench player for the Trojans, currently ranking fourth on the team in points per game at 9.1. He is also fifth in minutes per game at 24.8.
Enfield was also without Joshua Morgan, who is dealing with an injury of his own. The Trojans head coach said there was no timetable for Morgan, but he hopes to get at least one of the two injured USC players back for Thursday's game against Oregon.
"I think if we had to play game tomorrow, neither one of them would play tomorrow," Enfield said. "But we're hoping by Thursday and Saturday next week, at least one of them will be available soon."
Despite Reese Dixon-Waters' injury, USC emerged victorious
With Reese Dixon-Waters and Joshua Morgan both out due to injury, USC still emerged victorious over Washington.
Tre White had 22 points on 10-for-16 shooting while Kobe Johnson had 21 points for the Trojans. Their play helped make up for the shooting struggles of Drew Peterson and Boogie Ellis, who both went 4-for-14 from the field.
The victory was a big one for USC. Not only did the Trojans get it done without two key contributors but they also beat a team featuring one of the best players in the Pac-12 in Keion Brooks Jr.