Boogie Ellis shoulders blame in USC's season-ending loss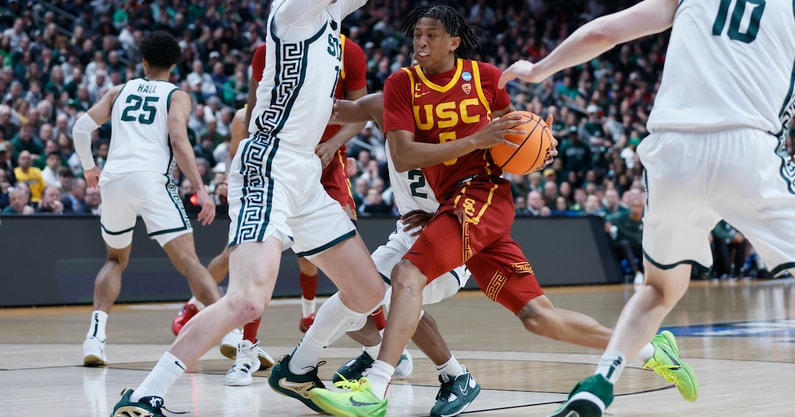 It was an NCAA Tournament appearance to forget for USC point guard Boogie Ellis as the Trojans lead guard was stifled by Michigan State and a stout defense. Normally the leading scorer for USC, Ellis scored just six against the Spartans in a 72-62 loss.
And after shooting 3-of-12 from the field and fouling out with a few minutes remaining, Ellis was left frustrated. It's a taste he'll struggle to get out of his mouth — at least right away.
"They did a good job. I let my teammates down today," Ellis said. "I didn't make shots. And they made things tough for me."
USC was playing without big man Vincent Iwuchukwu and lacking his length, the Spartans overwhelmed Ellis on drives to the rim with a number of their own bigs. Between Mady Sissoko, Carson Cooper and Jaxon Kohler walling up down low and stout on-ball defense from the likes of AJ Hoggard and Jaden Akins — both big, physical guards — Ellis could never get consistent daylight.
"Just team defense, jumping to the ball. Being on all the gaps, pretty much," Ellis said of the Spartans defensive effort.
Along with Ellis, senior backcourt mate Drew Peterson also struggled, though not to the same extent. He scored 11 points but on a 4-for-10 shooting performance.
Combined, Ellis and Peterson went 7-for-22 from the field for 17 points. Entering the game against Michigan State, the duo averaged a combined 32 points per game.
The struggles for Ellis were evident early, too. Speaking to a sideline reporter in the first half, USC head coach Andy Enfield urged patience that was ultimately scant on Friday.
"He has to be patient with shot selection. He's a lead guard, so it has to be a good combination of shooting the shot when he's open and making plays for his teammates," Enfield said.
Asked if Ellis was playing too rushed, Enfield said no — and that the Trojans needed more from him.
"No, I just think he tried to go one-on-one few times," Enfield said. "He's a great player so we expect more from him."
It's the second-straight year that USC has gone home after the first game in the NCAA Tournament, and the second consecutive loss in a matchup between No. 7 and No. 10 seeds. As the No. 7 seed last year, USC fell to Miami. This year as a No. 10 seed, it was MSU besting USC.
For a team that went to the Elite Eight in 2021, recapturing that March magic has been a difficult task — and one USC will have to wait another year to try again.