Bruce Feldman names his team to beat in Caleb Williams sweepstakes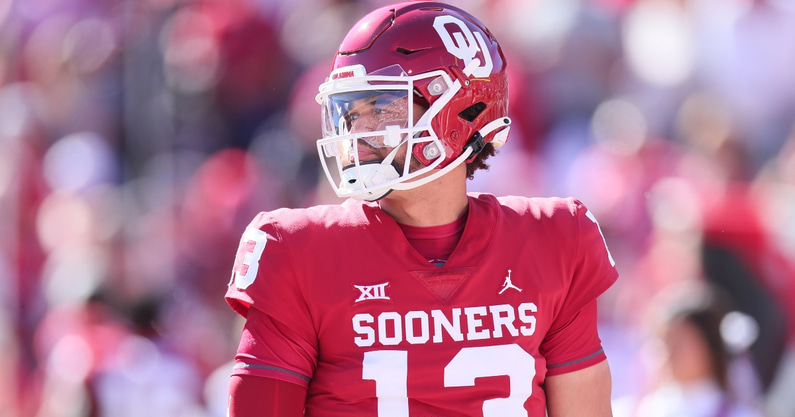 A lot of major dominoes have fallen this offseason in college football. The coaching carousel was chaotic and impactful on the nation, and the transfer portal has been no different. With former Oklahoma Sooners quarterback Caleb Williams still in the portal, his decision on where to transfer will undoubtedly have major impacts on the rest of the country.
Many expect Williams to follow Lincoln Riley and transfer to USC. Riley left Oklahoma to take the head coaching position with the Trojans. Bruce Feldman of FOX and The Athletic joined The Paul Finebaum Show earlier in the week, where he called USC the "team to beat" to land a transfer commitment from Williams.
"I think they're the team to beat for him," Feldman said when asked about USC's chances at landing Williams. "He bought into Lincoln Riley a couple of years ago. And look, Lincoln Riley has three starting quarterbacks in the NFL right now – Baker Mayfield, Kyler Murray, and Jalen Hurts – that he has helped develop. There's an aspect of a blank canvas and you can come into Southern California. You know what you're getting with Lincoln Riley. Who would come with him?"
Williams' familiarity with Riley could aid a transfer decision to USC
Familiarity is sometimes an important factor when players decide where to play. For Williams, that is no different. He is familiar with Lincoln Riley's offense. Williams committed to Riley at Oklahoma and learned under him for one season.
"I also think that as he and his family are looking at options, I think there is a question of what might be better than this? So I think they know what they're getting," Feldman added. "From everything I've heard, Caleb Williams has a really good relationship with Lincoln Riley. So I would expect that, in the next week or so, that's where he ends up. It wouldn't shock me if he ended up some place else. But that's, to me based on everything I've heard, the team to beat."
Williams threw for 1,912 yards, 21 touchdowns and four interceptions this season after unseating preseason Heisman favorite Spencer Rattler as Oklahoma's starting quarterback. Now, Williams is likely to be a Heisman contender next season, regardless of where he decides to transfer.
Since Williams entered the transfer portal, USC quarterback Jaxson Dart has done the same. Dart has visited Oklahoma, which is interesting after former UCF quarterback Dillon Gabriel is now with the Sooners. Gabriel flipped his transfer commitment from USC to UCLA, and the Bruins have been linked to Williams as a possible destination as well.