Donte Williams provides injury update on USC tight end Michael Trigg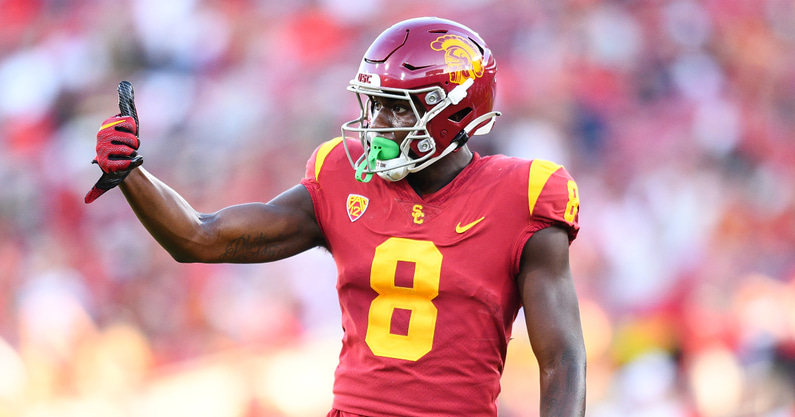 Freshman tight end Michael Trigg suffered a gruesome injury in USC's 42-26 loss to the Utah Utes on Saturday, but interim head coach Donte Williams provided a positive update on Tuesday night: Trigg will not need surgery on his lower-leg injury.
Williams added that Trigg underwent two MRIs, each of which came back clean. He said that he is hopeful that Trigg won't actually have to miss any time at all, as USC has a bye week and does not play its next contest until Oct. 23 at Notre Dame.
Trigg was sidelined in the second half of Saturday's loss to Utah, as a Utes defender came in and hit him low on his leg. Trigg was left laying on the field until the training staff made it his way. From there, the trainers took Trigg to the medical tent for further evaluation, where he spent several minutes.
After several minutes spent in the injury tent, Trigg was carted off the field. And for USC fans watching the game, it appeared as though it would be worst-case scenario — as he left the field on the cart, he was overcome with emotion and covered his face with a towel.
Trigg finished the game with just one reception for seven yards, and his freshman year has been somewhat uneventful, especially as USC has been forced to use multiple quarterbacks. Through four games played, Trigg has 109 receiving yards on seven receptions, along with one touchdown reception.
Trigg left the LA Coliseum on Saturday with his right leg held in a brace. He had crutches as he walked out of the stadium, and he told reporters that he was unable to provide an update on the severity of the injury until he received an MRI. Ultimately, Coach Williams said that it was a pain tolerance issue and the two MRIs came back clean, so the USC Trojans hope to have him back on the field soon.
A four-star recruit out of Tampa, Florida, Trigg committed to USC out of Carrollwood Day High School. Trigg was a two-sport athlete in high school and received multiple offers in basketball, too averaging 22.6 points per game his junior season. But he flourished on the football field, making the 2020 PrepStar Dream Team as a senior tight end and defensive end. However, Trigg also played some time in high school at quarterback, too. In his senior season, he reeled in 30 passes for 586 yards, averaging 19.5 yards per reception, and tacked on five receiving touchdowns.