Donte Williams gives theory on USC home struggles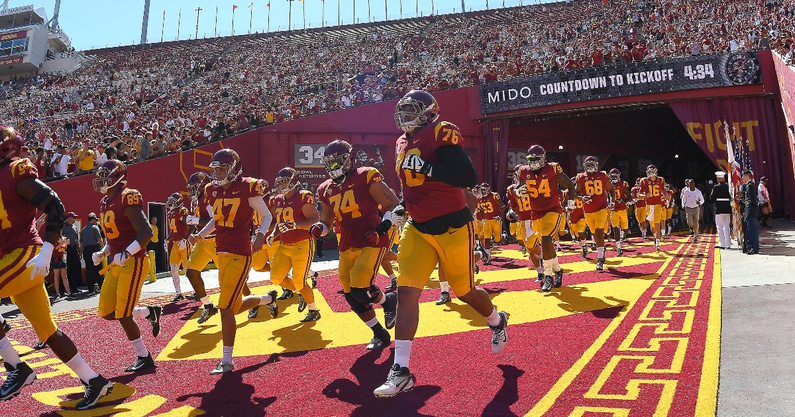 USC's season is not going as they had hoped. At all.
A team that entered the 2021 campaign with an abundance of talent and College Football Playoff aspirations has three losses before mid October. They also fired former head coach Clay Helton after their second game of the season. An even more surprising tidbit? They have yet to win a Power Five game in the Coliseum. 
USC is 1-3 at home and 2-0 on the road. Their only home win was their opener against San Jose State, and Utah beat them at home last weekend for the first time since 1916. From 2011-2020, USC was 47-13 at home and did not finish below .500.
Interim head coach Donte Williams spoke to what might be behind his team's home struggles and what he is trying to do to combat the issues and semi-salvage the season.
"I think at home that we play for everyone," Williams said Tuesday on "Trojans Live." "We don't want to let anyone down. There's so many people that my family's here or these fans are here. We get a sense of… it's almost embarrassment when things don't go our way. We start playing for the wrong reasons. On the road it's pretty much an us against the world type of mentality where actually you're truly playing for the person next to you and playing for everyone in that locker room."
Of particular concern for the Trojans is the average margin of victory they are suffering in the Coliseum. In the loss to Utah plus losses to Stanford (which resulted in head coach Clay Helton's firing) and Oregon State, USC's opponents are beating them by an average of 16 points. None of the opponents were ranked at the time of their wins over the Trojans, and none are currently ranked.
"So we have to find a sense of pride to do the same when we're at home," Williams added. "Like even though it's the 60,000 fans there, that they almost don't exist. We realize we're playing for the guy next to me that I'm practice mates with and I'm in the same locker room with. We gotta make sure we go back to playing for those guys."
The Trojans have three remaining home contests starting with Arizona on Oct. 30. The Wildcats are the only winless Power Five team in the nation, and their struggles should provide a much needed home win for USC.
Williams' team is off this weekend before heading to South Bend on Oct. 23 to take on Notre Dame. After winning eight consecutive games against the Irish from 2002-2009, USC is 3-7 against their annual rival since then. The game kicks off at 7:30 p.m. ET on NBC.