ESPN analyst reveals whether USC is a contender in 2023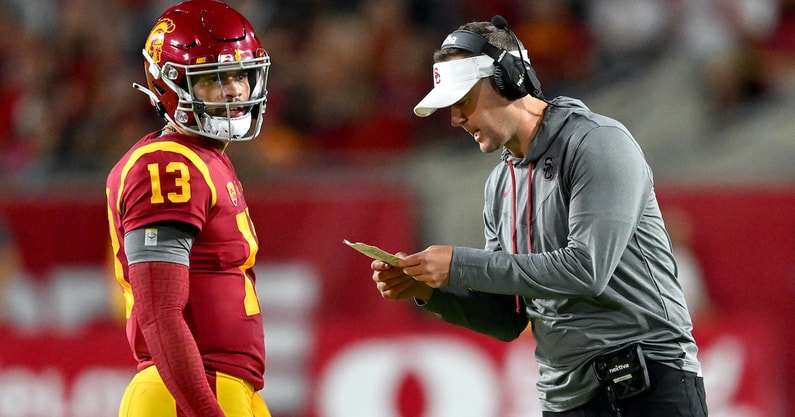 USC should be among the best teams in college football in 2023, and the reasons are pretty clear. With Lincoln Riley on the sidelines and Caleb Williams at quarterback, the Trojans will have one of the best, most explosive offensives in the country.
But whether the Trojans can contend for a Pac 12 crown and more likely depends plenty on the other side of the ball. And heading in to the 2023, ESPN analyst Greg McElroy is still waiting to see USC play some championship-level defense.
"They got guys on offense. But when are they going to go out and find a complete game wrecker defensively? Now, Tuli Tuipulotu was at times that guy for them last year," McElroy said. "But my questions with USC will continue until I know for certain they're going to take a decent step on the defensive side of the football. Look, I think that they're going to win games. I think they're going to have a crazy exciting product to watch. And I think it's great that USC's back being in the mix for the college football playoff. But, y'all, we gotta see growth on that side of the ball."
There is a reasonable chance that USC can simply outscore any defensive shortcomings. The Trojans nearly did so in 2022, but lost a lot of the core offensive pieces from that group. But with Williams back and the usual crop of ultra-talented offensive recruits on the way, McElroy knows that side of the ball will be taken care of.
But for as good as the USC offense can be when it is humming along, the saying isn't "defense wins championships" for no reason.
"Now, Caleb Williams is superhuman, I get it. He's not going to be — he's not going to be in a position where they lose a receiver, there goes the offense. No, we know that's not going to happen. We saw Travis Dye, for instance, go down last year — hey, plug and play, they're going to be just fine. This is a group that I expect to continue to excel on that side of the ball," McElroy said. "But, when you take everything else into consideration, there are question marks on defense, man."