Marcus Allen gives strong take on Lincoln Riley's ability to resurrect USC football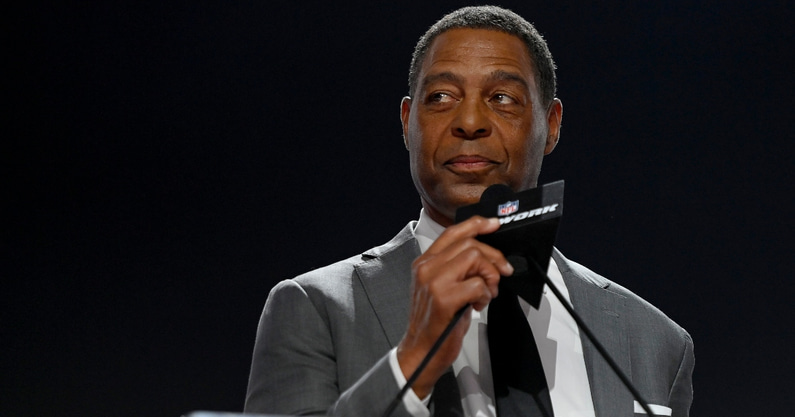 USC Trojans head football coach Lincoln Riley has only been on the job for less than half a year. His hiring immediately injected a level of enthusiasm and excitement around the team's football program that hasn't been seen in quite some time. On Wednesday night, Hall-of-Famer Marcus Allen spoke with Keely Eure about how excited he was to speak to the Trojan fan base after his speech on Wednesday night at "USC's Salute to Troy" event.
"It felt great," Allen said. "What I said earlier was I've always felt there was something really special about USC. But it was because of the football program that we sort of organized and brought people together and gave us this incredible enthusiasm and passion for his university. I think it's gonna return. I noticed a little lull [laughs]. But now, I think it's gonna return and I'm looking forward to the team having a great year," the Hall-of-Famer said.
He also spoke a little bit about why he's so confident that Lincoln Riley can return the USC football program back to that level.
"Well, I've seen what Lincoln has done, Coach Riley has done at the University of Oklahoma. I've seen the players that he's coached. I've seen the players that he's developed. And he comes here with an understanding of the great expectation. I think he knows what he's getting into. He knows the standard is high. But, you know, I think he can get it done here. So, I believe in him. I think he will do exactly what he intends to do, which is win," Allen said.
He's certainly right about Riley knowing what he's getting into and the expectations with the Trojans' football program. Riley even said a few months ago that "our expectations are championships." The USC aerial assault is undoubtedly going to be one of the most exciting in college football to watch, with Caleb Williams under center and the 2021 Biletnikoff Award winner, Jordan Addison hauling in passes from him–a truly devastating combination.
In 1981, Marcus Allen became the Trojans' fourth Heisman Trophy winner and the first 2,000-yard rusher in college football history. When he brought home the coveted hardware–Allen set 14 new NCAA records and tied two others: including the most rushing yards in a single season (2,342 yards) and the highest per game rushing yard average (212.9 yards).
During his 16 seasons in the National Football League, Allen punched his ticket to the Hall of Fame after piling up 12,243 rushing yards, 5,411 receiving yards, and 145 total touchdowns. As Matt Wadleigh of TrojansWire so eloquently put it recently, his game "set the standard for production married with artistry."
The USC Trojans kick off their 2022 campaign against the Rice Owls on Sept. 3. Kickoff for that one is set for 6 p.m. EST.