Interim head coach Donte Williams releases message to USC faithful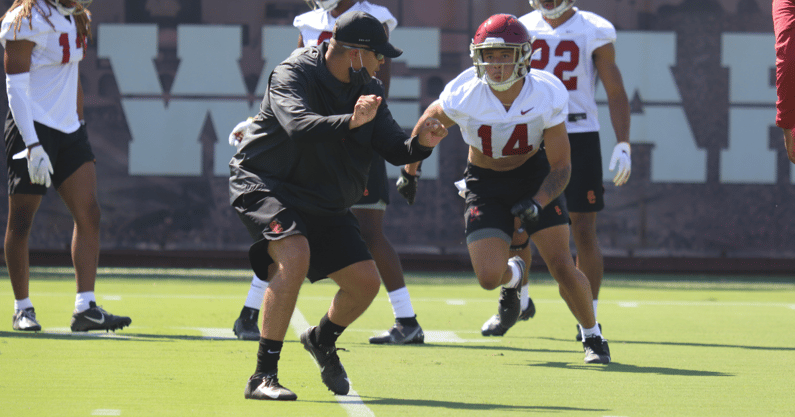 After being announced as USC's interim head coach following Clay Helton's firing, Donte Williams posted a message to his team and USC fans.
"My mind for this program right now is not even Saturday," Williams said. "It's about today. It's about doing everything the right way. Whether that was academics, whether that's how we meet, whether that's how we practice. Everything we do, do it the best in the nation. I want to make sure we are the best in the way that we conduct our business here on a day-to-day operation. So it hasn't changed, it's still a '1-0' mantra but it's a 1-0 mantra about today. Not about tomorrow, not about the game on Saturday about today. So that's my message to the team. I'm not focused on the future, I'm focused on right now, this second with this team."
Williams added a note in the caption.
"Blessed with an incredible opportunity in the city I love," he said. "It's an honor to serve this prestigious university. 1-0 every day is the mindset. #FightOn"
Donte Williams was announced as the interim head coach after Clay Helton was fired just two games into the season following the Trojans 38-28 loss to Stanford on Saturday.
Williams is in his second season at USC after being hired as the Trojans' defensive backs coach and defensive pass game coordinator in February 2020. In December, Williams, who is considered one of the best recruiters in the nation, added the title of associate head coach. Now, Williams serves as head coach for the first time in his career.
Donte Williams is the first African American head coach at USC.
"When asked about being the first African American coach at USC, he said it's humbling and he's just trying to do the best he can to succeed," Ahmad Akkaoui of LA FB Network tweeted. "He used to look at just the CBs and defense, and now he's looking at both sides of the ball with more detail."
The Trojans staff that includes names like offensive coordinator Graham Harrell, defensive coordinator Todd Orlando, safeties coach Craig Naiver and special teams coordinator Sean Snyder, remains intact.
Under Williams' watch in 2020, USC's pass defense allowed just 216.3 yards, its fewest since 2013. USC cornerback Chris Steele made All-Pac-12 second team, while Olaijah Griffin was ranked the Pac-12's No. 3 cornerback by Pro Football Focus. 
Williams spent the previous two seasons as Oregon's cornerbacks' coach. In his time with the Ducks, Oregon was second in the nation in interceptions in 2019 and 11th in 2018.
Donte Williams is credited with the recruitments of the likes of five-star defensive end Korey Foreman in the 2021 class and five-star cornerback Domani Jackson in the 2022 class at USC.
Williams' footprint is all over Oregon's 2021 team as he is credited with the recruitments of five-star linebacker Justin Flowe, five-star cornerback Dontae Manning and four-star defensive back Mykael Wright.
In the 2022 class, Williams is the primary recruiter for the aforementioned Jackson, four-star cornerbacks Jaeden Gould, Fabian Ross and three-star wide receiver Kevin Green.
Though USC's head coaching search will loom over the rest of the season, Donte Williams will focus on the opportunity he has and look help to right the ship against Washington State on Saturday.