Jordan Addison has interesting answer for why he decided to transfer from Pitt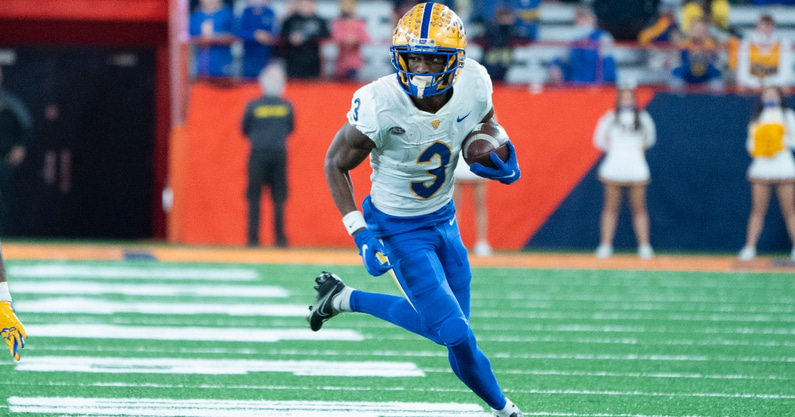 New USC Trojans wide receiver Jordan Addison hit the podium on Thursday for his media debut in Los Angeles. Reporters asked the 2021 Biletnikoff Award winner why he decided to transfer from Pitt to USC, which received an interesting response.
"I'll say this, my story was already written," Addison said. "I'm just sticking to the script. It was just a feeling that I had that landed me here."
Critics scrutinized Addison's transfer from Pitt to USC after he posted a record-high 100 receptions for the Panthers last season. Reports and rumors swirled in the weeks leading up to his decision about the influence of NIL deals on his recruitment.
Addison called those rumors, "just some BS," on Thursday as well.
USC head coach Lincoln Riley defended his new star wide receiver against the pay-for-play reports and ultimately called them detrimental to Addison's image.
"Jordan got in the transfer portal, Jordan came on a visit to USC despite all the negative things that were put out magically by somebody. He's a kid that's all about ball. All he wanted to do on his entire official visit was talk ball. We literally missed several of the meals and other things, entertainment, that we had scheduled just so we could watch more film and talk more ball.
"That's all he's about," Riley continued. "And I think he's been really, really misrepresented throughout this whole thing. Hopefully, as this year goes on, people will get to see the quality of young man that he is."
Addison to wear No. 3 for Trojans
Last week, USC football revealed that Jordan Addison will don No. 3 this season. The number is a nod to Addison's superstar potential, made popular by former Heisman Trophy winner Carson Palmer.
Addison had 1,593 yards and 17 touchdowns before entering the portal just ahead of the May 1 deadline. At USC with Caleb Williams, he has the opportunity to shine in the Power Five and move even further up the draft board for NFL scouts.