Lincoln Riley excited about where USC is headed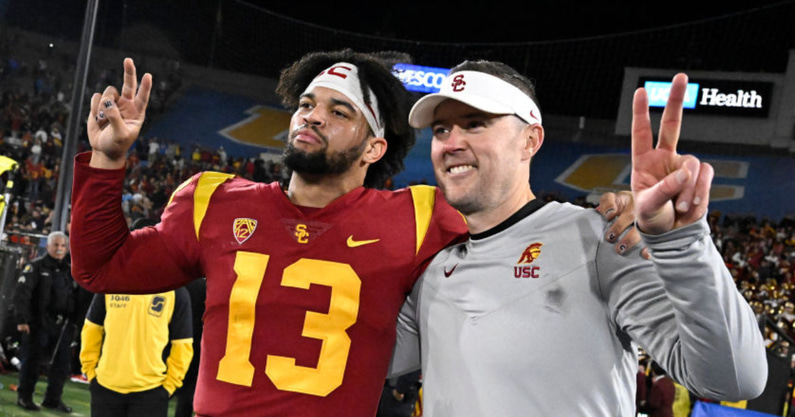 In less than one season under head coach Lincoln Riley, USC is at the forefront of college football for the first time since the Pete Carroll days – and Riley doesn't expect to take his foot off the gas any time soon.
"We did some things the other night and the past couple weeks that get you excited about where we're headed," Riley said Tuesday about the program's future. "That's kind of what you gear up for. It's going to take our best on both sides throughout this closing stretching and this weekend. You gear up for it and you want to be that way, but it's always the perfect climb or perfect (decline) – there's a lot of ups and downs throughout it.
"I see mentality progressing, I see us finding some cool ways to win and obviously beating some good opponents with some more on deck. That's the plan, that's what we're working toward and I think this team is pretty serious about it."
CLICK HERE to subscribe for FREE to the On3 YouTube channel
While the day-to-day aspect of Riley's operations are what the USC head man decided to focus on, it isn't what turned this program around overnight. The quickness of USC's rise from the end of the Clay Helton era to now is a reminder of how big the transfer portal is becoming for some programs.
Caleb Williams, Jordan Addison, Mario Williams, Travis Dye. All four transfers – all are in the top five of offensive production for the Trojans this season. And that's only on offense. Shane Lee (USC's leading tackler), Eric Gentry, Mekhi Blackmon and Bryson Shaw are all transfer, too. Now, bringing in the right group of proven players to buy in to what Riley has been selling is finally paying off.
USC stands at 10-1 heading into Saturday's season finale and has already clinched a spot in the 2022 Pac-12 Championship game. Ranked No. 6 in the latest College Football Playoff, all the Trojans can do is play who's in front of them – and win.
That's easier said than done, as USC is set to battle a dangerous No. 15 Notre Dame (8-3) team that's riding a five-game winning streak. Kickoff is set for 7:30 p.m. ET inside Los Angeles Memorial Coliseum live on ABC.