LOOK: Lincoln Riley hilariously shoots down Mario Williams, Kyler Murray's baseball skills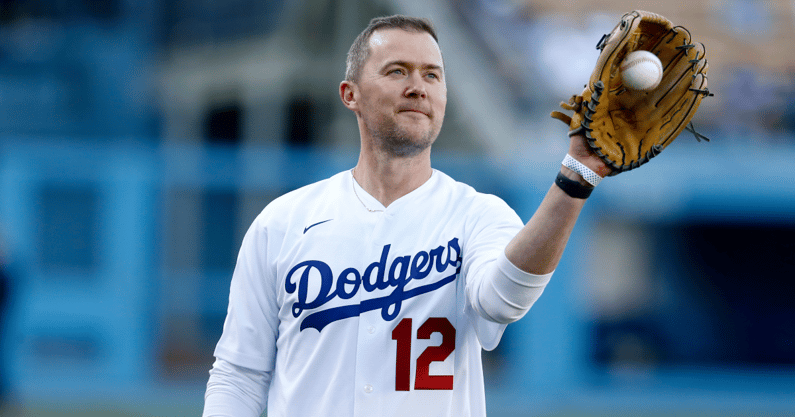 After USC football coach Lincoln Riley took to the baseball diamond Friday night to throw out the first pitch for the Los Angeles Dodgers, one of his players challenged his skills. Trojans receiver Mario Williams responded on Twitter to video of Riley's throw with a bold declaration: "Would've hit it out the park," he wrote.
That isn't so far fetched, as Williams also played baseball at Plant High School (FL), where he was a member of a state championship team as a sophomore. Riley was ready with his response, even bringing quarterback Kyler Murray, who played under him at Oklahoma, into the equation. Murray played baseball for the Sooners and was even drafted ninth overall in 2018 by the MLB's Oakland Athletics.
"No chance for you or (Kyler Murray)," Riley wrote in response to Williams.
Williams might not get the chance to take a swing at a Lincoln Riley thrown baseball anytime soon, but he is expected to do big things on the football field in 2022. The receiver followed his head coach to LA after spending his freshman year with him at Oklahoma in 2021. A former four-star recruit and the No. 3 overall receiver in the class according to On3 Consensus, a complete and equally weighted industry-generated average.
As for Murray, he won the Heisman Trophy during the 2018 season and decided to pursue a future in the NFL. The Arizona Cardinals selected him first overall in 2019, and he earned Offensive Rookie of the Year that season. This past season he finished with the seventh-best QBR (57.3) among all NFL quarterbacks while throwing for 3,787 yards and rushing for 423 more. The Athletics still hold his rights, should he ever decide to return to baseball.
Riley made ample use of the transfer portal this offseason, bringing in not only Mario Williams, but also Sooners quarterback Caleb Williams, the No. 1 player according to On3's Transfer Portal Rankings. The duo will get their first opportunity to prove their connection when the Trojans open the season against Rice on Sept. 3.