Lincoln Riley expected to become next USC head coach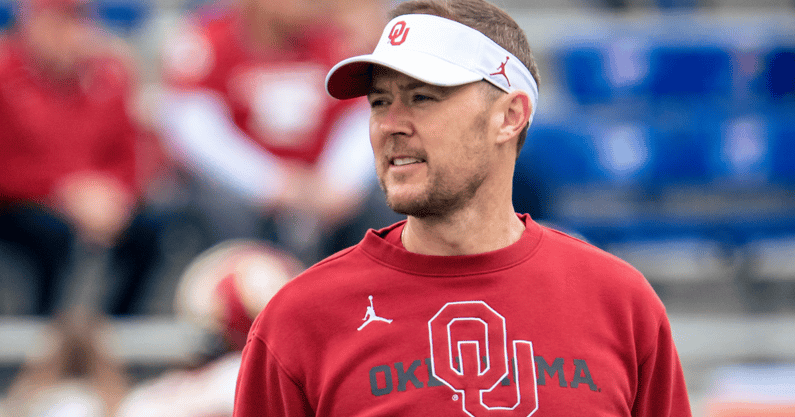 Lincoln Riley has shifted the college football landscape with one swift move. Lincoln Riley is expected to become USC's next head coach, On3's Matt Zenitz reported Sunday.
Contract details have yet to be announced. Per USA Today, Riley was the fifth-highest paid coach this season with a $7.672 million salary.
In his fifth season with the Sooners, Riley was tabbed as the heir to the Bob Stoops' dynasty. Oklahoma is 10-2 this season and was on the cusp of a College Football Playoff berth until its loss to Oklahoma State on Saturday night. A win would have set up the Sooners to meet the Cowboys in Dallas for the Big 12 title this coming weekend.
Riley took over for Stoops in June 2017. Initially hired by Stoops as an offensive coordinator in 2015, Riley built the Sooners into a top-10 offense in the 2016 season and won the Broyles Award, given to the nation's top assistant coach.
There are a handful of reasons why Riley would want to make the move. For starters, Oklahoma is set to join the SEC in the coming years and as early as 2023. While the Sooners are constantly in the playoff conversation and winners of six-consecutive Big 12 titles, making the jump to the most competitive conference in the nation could backfire.
With a 55-10 overall record and 37-7 mark in conference play at Oklahoma, Riley has made the playoff four times but still doesn't have a national title game appearance. Making the move to USC gives the 38-year-old head coach a backyard loaded with talent.
What Lincoln Riley is walking into at USC
Former USC head coach Clay Helton was fired after just two games this season. The Trojans are not bowl eligible and finish the season 4-7 overall with a 3-5 mark in the Pac-12.
Riley has recruited No. 1 overall class in On3's 2023 consensus football team rankings, including five-star quarterback Malachi Nelson. The new USC head coach will be tasked with flipping some of those elite Oklahoma commits over to Trojans. Nelson is a Southern California product, along with four-star athlete Makai Lemon.
USC has struggled significantly to be a player in the Pac-12, both on the field and in recruiting. The Trojans currently have the No. 37 overall class per On3's recruiting and not a single five-star recruit. They also have just three in-state commitments.