WATCH: Lincoln Riley throws out first pitch at Los Angeles Dodgers game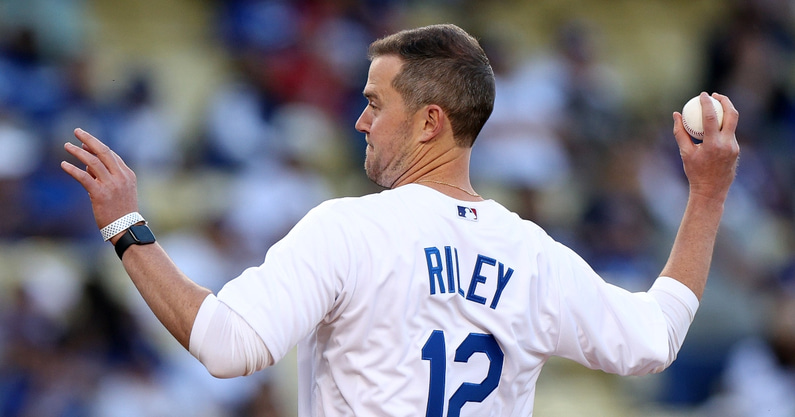 Newly anointed USC Trojans head coach Lincoln Riley has not been shy about staying in the spotlight during his first few months on the job. On Friday night, he threw out the first pitch before the Los Angeles Dodgers-Philadelphia Phillies game. The Dodgers declared the evening USC night and shared a brief video of Riley taking the field and tossing out the pitch.
Following the experience on Friday night, the USC head football coach was quick to show his appreciation to the Dodgers on Twitter, tweeting, "Appreciate you having me…very cool experience."
Expectations for Riley and the Trojans football program have been sky high ever since he reeled in the nation's most coveted prospect from the transfer portal in quarterback Caleb Williams. Those expectations will only continue to grow if USC can land last year's Biletnikoff Award winner, Jordan Addison.
While throwing out the first pitch for the Dodgers is a cool experience, it would be easy to forgive Riley if he had transfer portal domination at the forefront of his mind this weekend. Addison is currently in town visiting the Trojans. He's already visited the Texas Longhorns. Then, following his visit to USC this weekend, her will be headed to Tuscaloosa to visit the Alabama Crimson Tide.
Speaking of the transfer portal, the Trojans landed yet another prospect on Friday afternoon — this time former JUCO offensive lineman Cooper Lovelace.
Expectations for the upcoming season for the USC Trojans
Once Riley left Oklahoma and signed on with the Trojans for $110 million, he automatically knew that winning championships would be the standard. For that kind of money, anything less would be considered a disappointment. Following his first spring game with USC, the new head coach told ESPN's Molly McGrath he recognizes that high expectations are going to be the norm every season.
"This is USC. We're always in win now mode. So, our expectations are championships," Riley said. "That will never change, whether it's year one or year twenty."
Most championship caliber rosters in college football have elite quarterback play. Luckily for Riley, he'll have the option of two top tier quarterbacks heading into the 2022-2023 college football season.
Lincoln Riley gave his thoughts on the USC spring game and the quarterbacks
Following the game, Lincoln Riley also discussed his thoughts on the game and his thoughts on his two signal-callers.
"It was fun. It was fun," Riley said. "I thought the guys handled it well. Offense played pretty good in the first half. Defense came out and played really well in the second half. I'd say that's pretty representative of what it's been all spring. It's been really competitive and I can't say enough about how the guys have bought in here so far."
Then he spoke a little bit about the play of his quarterbacks.
"I thought they both played pretty well," said Riley. "Played within themselves. Had a couple of opportunities in the second half that we missed. But we were pretty sharp. Caleb [Williams] had a really good start. Miller [Moss] played pretty well throughout it. Threw a beautiful fade ball there to Kyle Ford. So, it was fun to watch."
Both Trojans' signal-callers looked sharp in the game. Caleb Williams completed 10 of his 12 passing attempts for 98 yards, while tossing two touchdowns. Miller Moss completed 15 of his 20 passing attempts for 169 yards and one touchdown.
The USC Trojans kick off their 2022-2023 campaign against the Rice Owls on Saturday, Sept. 3. The game will be played in Los Angeles in the Coliseum.