Lincoln Riley believes Travis Dye will miss rest of season, describes his reaction to injury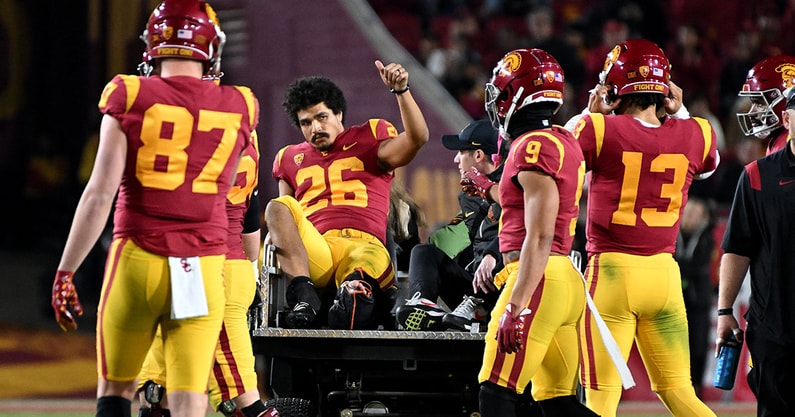 USC coach Lincoln Riley confirmed the news the Trojans hoped to avoid Friday night. Travis Dye is likely out for the year after suffering a scary leg injury in the second quarter against Colorado.
Dye went down on a four-yard run during USC's victory over the Buffaloes and left on a cart while wearing an air cast. It was a scary scene — and for the Trojans, it means they're losing a key piece of their offense for the rest of an impressive season.
"It sucks. No other way to put it," Riley said in his postgame press conference. "It's one of the tough parts of this game. This game, it's given Trav a lot, he's put a lot into it. He's had an awesome career, he's had an awesome run for us this year. There's no way we would be sitting here where we're at as a football team without him."
CLICK HERE to subscribe for FREE to the On3 YouTube channel
Dye is USC's leading rusher in his first season with the team after transferring from Oregon, totaling 884 yards and nine touchdowns in 10 games. He was a highly rated transfer after entering the transfer portal, coming in at No. 21 in the 2021 On3 Transfer Portal Rankings.
Riley didn't say what the initial diagnosis of Dye's injury was, but said it likely won't impact his future as an NFL running back.
"He'll be playing on an NFL team next year," Riley said. "He'll probably play really well."
Lincoln Riley on his message to Travis Dye on the cart: 'I just told him I appreciate him'
As Dye was loaded onto the cart, both teams surrounded him and wished him well before he left the field. Riley also walked out onto the field to share some words with his star, and he revealed what he said during their conversation.
"I just told him I appreciated him," Riley said. "It's an emotional thing, especially when you have one like that, you know it's pretty serious. Get a senior right here are the end, he's been so critical to this team being 9-1 and in an awesome position.
"It breaks your heart. It does. Again, it's part of the game, and that's why you've got to appreciate every opportunity that you get to coach it and, especially, to play it. I think his time here on the field will be with no regrets. He certainly left it all out there and done everything he could for this team, and I know he'll continue to do so."
Travis Dye 'tremendously important' to implementing USC's culture
As Riley tried to implement his culture at USC after coming over from Oklahoma during the offseason, Dye became a big part of that. He was essential not only on the field during games, but also in practice, helping the other players on the roster work at a more competitive level.
Without Dye, Riley said, the Trojans wouldn't be in the position they're in.
"Tremendously important," Riley said. "I say important to the culture but, really, important to like the competitive nature and the way we practice and the energy and the competitiveness and the physicality and the toughness.
"He was one of the key cogs in this team making some real progress there. I think we all know that that was something that had to happen here, and he was an essential figure of that. His presence on the field, his presence on the practice field, all of that. It got everybody going. He's just an infectious leader and an infectious personality."
Despite his injury, Riley said Dye will still be a key part of the program going forward. It might not be on the field, but he'll still be able to make an impact in other ways.
"His role will probably be a little bit different going forward here for this team," Riley said. "But he'll still be a huge leader, a huge part of it. He's got a lot of great ball and a lot of other great things ahead of him right now. He's married way over his head, so definitely got that going for him.
"We love him. It's an unfortunate part of his game."