Lincoln Riley very excited about the trajectory of football on the west coast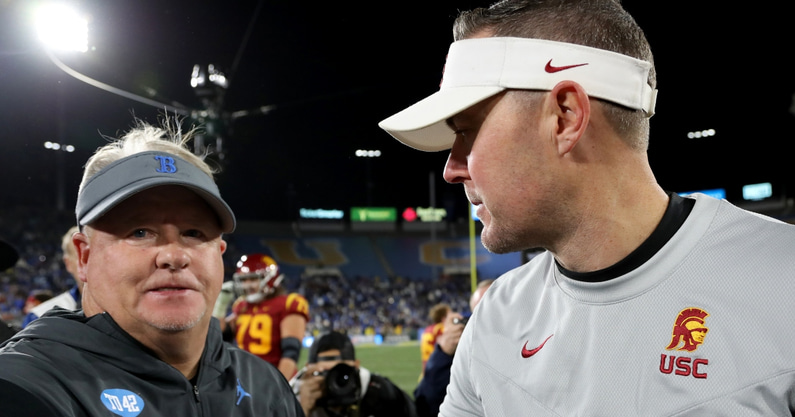 If you missed Saturday's battle for Los Angeles between UCLA and USC, you missed arguably one of the best games of the season. That matchup was a landmark game for many reasons. But one of the key reasons might have gone over some people's heads. As USC head coach Lincoln Riley recently put it, it highlighted the trajectory of college football in California. And Riley is very excited about the trajectory of football on the West Coast and, most notably, for his Trojans.
"I think that people need to recognize that a lot of things have changed. This program is on a great trajectory. Chip's done a phenomenal job over at UCLA," said Riley. "The home games at UCLA need to look like that. Our home games need to be full; they do. And the products are there. I think there's certainly a part of putting the product out there, but once the product is out there, people have to see it. People have to recognize it.
"Like I said the other night, every single person that was there. Every one of them was glad they were there," said Riley. "Whether they were UCLA fans or USC fans, it was a great experience. And that's what sports should be like. And then there's going to be a lot of people that wish they had been there, that had a chance to go."
This past Saturday, the Trojans and the Bruins put on a show in Los Angeles, CA. The offensive fireworks were plenty and non-stop, culminating in a 48-45 victory for USC. The game was every bit of the hype surrounding it, and then some, as dueling quarterbacks Caleb Williams and Dorian Thompson-Robinson lit up each other's defenses.
For the fan of college football in California, that game could end up being the moment people will look at and say: college football is back in California.
"Maybe football on the West Coast, college football, hasn't been at its peak. It hasn't been at the pinnacle of the sport. That can change, but it takes everybody. There's a ton of momentum behind that. Again give UCLA a ton of credit. They have had a phenomenal year. We've had a good year. There's a ton of momentum; we've got to do our part there. Then fans have to do their part because that makes the atmosphere better. That makes the recruiting better and your home-field advantage stronger.
"I think there's a really, really cool product here in the history of the city has been when there's really good successful high-quality products; the following is unbelievable. And I think that's where we're headed here. We're all eager to get there."
If Saturday's USC-UCLA matchup was any reflection of the things to come from both programs, California football is in a really good spot. And when both teams join the Big Ten conference, it will give the state an opportunity to match their talent level with other teams across the country, reminding individuals of the talent that comes from the Golden State.