WATCH: Miller Moss tosses a beautiful throw to Malcolm Epps in USC practice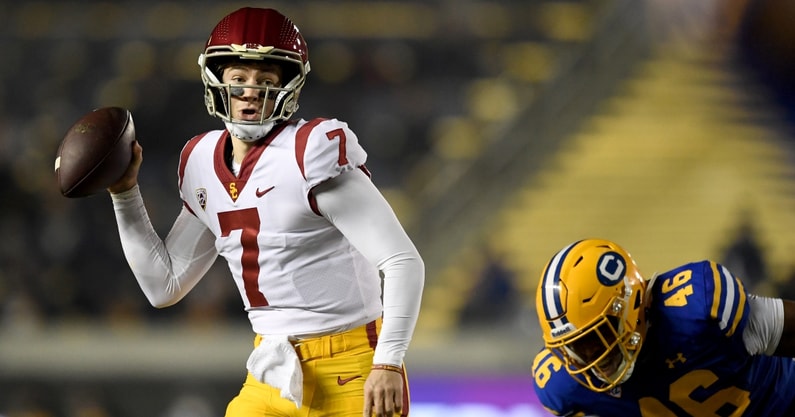 Spring football is in the air for the USC Trojans as the Lincoln Riley era is officially underway. It's always exciting to see the different highlight reel plays made in spring practices and on Saturday, USC quarterback Miller Moss tossed a beautifully thrown ball to tight end Malcolm Epps. The ball was wobbling a little bit in the air, but it was perfectly thrown over the outstretched hand of defensive back Latrell McCutchin in the air.
Then as the ball arrived, Epps beautifully brought the football in with one hand. Check out the catch here.
The video was beautifully slowed down in slow motion by the Trojans' video staff. It's a great piece of video work and what a beautiful connection by the USC teammates.
Before signing with USC, Miller Moss was a very highly touted prospect
Before enrolling with the USC Trojans, Miller Moss was rated as a four-star prospect and the No. 11 quarterback in the 2021 recruiting class, according to the On3 Consensus Rankings. While Caleb Williams will be the starter for the 2022 season and beyond for USC, it never hurts to have a backup quarterback spin a beautifully thrown ball like the one above. Moss was also rated as the No. 81 overall prospect in America, according to the On3 Consensus Rankings for the 2021 class.
Malcolm Epps transferred to USC from Texas in the spring of 2021. Last season, he hauled in 10 catches for 173 yards and one touchdown. During his career with the Longhorns, Epps pulled in 24 catches for 292 receiving yards and four touchdowns in three seasons (2018-2020). In high school, he pulled in 58 catches for 999 receiving yards and 12 touchdowns in his three-year (2015-2017) career as a tight end at Dekaney High School (Houston, Texas). As a high school prospect, he was rated as a four-star prospect, according to the On3 Consensus Rankings for the 2018 cycle.
Catches like the one above have to get USC fans excited for the future.
The USC spring game is set to be played on Saturday, April 23 at noon PST.