WATCH: Caleb Williams strikes Heisman pose after rushing touchdown vs. Notre Dame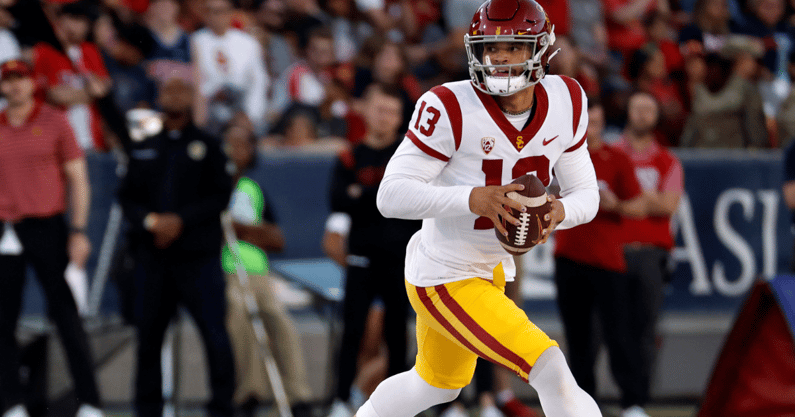 This late in the college football season, it's unusual for there to not be a favorite to win the Heisman Trophy. A few quarterbacks have emerged at the top but as of Saturday night, USC's Caleb Williams may be running away with the award in front of our eyes.
USC is once again on a big stage this week, hosting Notre Dame for a rivalry game matchup. Williams is already putting on an incredible performance in prime time in front of the entire country. He added to the solid stat line with a rushing touchdown right before halftime.
Williams took an interesting route to celebrate, going over to the sideline with his teammates. He then did his best Desmond Howard impression, striking the Heisman pose with his helmet off.
You can watch the entire moment here.
Williams was his normal self during the first half, completing 10 of his 13 passes. Those went for 146 yards and a touchdown. While the numbers are not flashy on the ground — four rushes for -4 yards — he does have the touchdown from above.
There is still another half to be played in Los Angeles but Williams is putting on quite the show. Putting a bow on the game with a couple more scores could put an additional bow on the Heisman Trophy.
More on Caleb Williams, Heisman campaign
With nobody emerging as the favorite to win the Heisman throughout the season, the award was always going to come down to who is playing well down the stretch. Williams will get some help with USC playing during important time slots against both UCLA and Notre Dame, balling out in both.
Heading into Saturday, Willaims has 3,796 total yards and 40 touchdowns (seven rushing). Add in just three interceptions and the former Oklahoma quarterback has protected the ball well.
Head coach Lincoln Riley is no stranger to attending the ceremony in New York City and seeing his players win. He will just be in USC colors this time.