Report: NFL coach emerges as candidate for USC head coaching vacancy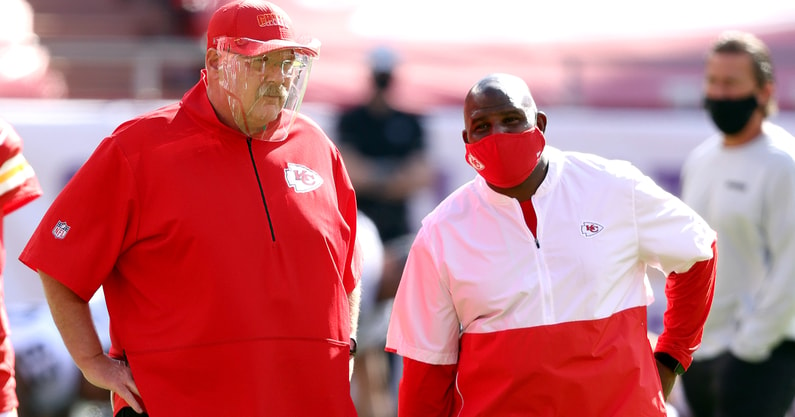 ESPN NFL insider Adam Schefter on Tuesday reported that a new name has emerged as a candidate in the search for a new USC head coach — one that's previously not been named: Kansas City Chiefs' offensive coordinator Eric Bieniemy.
An alumnus of Colorado, where he played for the Buffaloes, and former second-round pick in the 1991 NFL Draft, Bieniemy began his college coaching career at his alma mater in 2001. He spent two seasons as the Colorado running backs coach (and later, two seasons as the Buffaloes' offensive coordinator) and three seasons as the UCLA running backs coach, before moving on to NFL coaching roles. Not only would Bieniemy provide Pac-12 familiarity from his time at UCLA, but as Schefter pointed out, Bieniemy is a native of La Puente, California.
"Bieniemy is from Southern California and has told confidantes in the past, that USC is one of the only college jobs that might interest him," Schefter said.
After his early-career roles, Bieniemy spent a few years working assistant coaching roles for the Minnesota Vikings and Chiefs. He was named the Chiefs' offensive coordinator in 2018.
While with the Chiefs, Bieniemy has built one of the most successful offensive units in the NFL and as a result was named Sporting News Coordinator of the Year in 2020. He won Super Bowl LIV with the Chiefs.
Why Bieniemy's resume makes sense for USC
Bieniemy was the nation's leading rusher while playing for the Colorado Buffaloes in 1990, as he tallied 1,628 yards and 17 touchdowns, and he finished third in the Heisman Trophy voting. Colorado was not in the Pac-12 at the time; both his playing experience and coaching experience with the Buffaloes were while the university was a member of the Big 12. However, in 1990, he led Colorado to a national championship.
He later returned to coaching at Colorado, where he served as a running backs coach, and held the same position just around the corner from USC, when he served briefly as UCLA's running backs coach. His second college coaching stop with the Bruins would provide familiarity in the West Coast conference, particularly at a school just around the corner. Furthermore, Bieniemy went to Bishop Amat High School a mere 15 miles away from USC's campus.
While working at UCLA, Bieniemy helped produce running back Maurice Jones-Drew, who was later named to three Pro Bowls with two first-team All-Pro nominations.
Bieniemy's resume, however, does not include any head coaching experience. It's a role he's never before filled in college or professionally. However, since taking over as the Chiefs' offensive coordinator, he has built one of the NFL's greatest offenses.
Bieniemy enters his fourth season as Kansas City's offensive coordinator, and in 2019 his offense finished in the top-10 in total yards per game (379.2), passing yards per game (281.1), yards per play (6.22) and total points scored (28.2). Additionally, Bieniemy helped the Chiefs develop generational skill players by reaching milestone marks in a short span of time; quarterback Patrick Mahomes became the fastest quarterback in NFL history to reach 9,000 passing yards and 75 touchdowns, tight end Travis Kelce became the fastest tight end to reach 500 receptions and first-ever tight end to record back-to-back 1,200 receiving yard seasons and wide receiver Tyreek Hill became the fastest wide receiver in Chiefs history to record 4,000 career receiving yards.