Report: USC cancels Caleb Williams media availability for Wednesday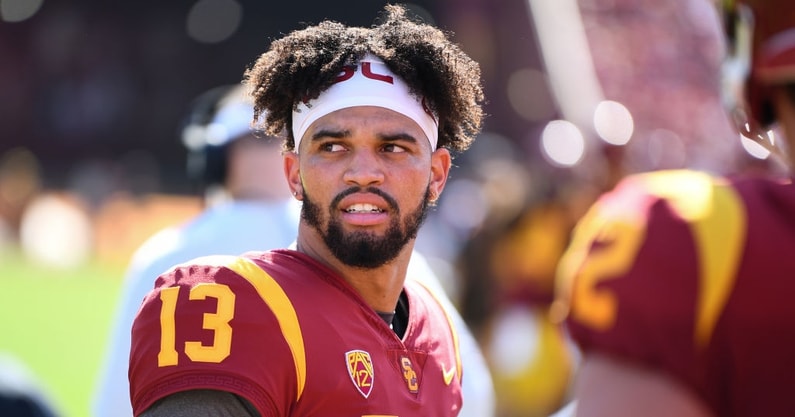 Caleb Williams didn't meet the media following USC's close victory over Oregon State. Wednesday, he again wasn't made available.
A USC spokesperson told reporters Williams wouldn't take questions Wednesday, according to the Los Angeles Times' Ryan Kartje. The Oklahoma transfer struggled last week against the Beavers, completing 16 of 36 passes for 180 yards and a touchdown as the Trojans held on for the 17-14 victory.
That lone touchdown pass proved to be the difference as he connected with Jordan Addison to put USC out in front and improve to 4-0 on the season.
CLICK HERE to subscribe for FREE to the On3 YouTube channel
This year — his first after entering the transfer portal — Williams has completed 80 of 122 passes for 1,054 yards and nine touchdowns. He will try to get back on track this week when the Trojans take on Arizona State at home Oct. 1 at 10:30 p.m. ET.
Lincoln Riley breaks down conversation with Caleb Williams amid struggles vs Oregon State
USC faced its toughest test of the Lincoln Riley era yet in Oregon State, and Caleb Williams fought through some troubles. Ultimately, the Trojans came out with the road victory over the Beavers.
While Williams completed just 16 of 36 pass attempts for 180 passing yards and a touchdown, he connected with star wide receiver Jordan Addison that put the Trojans ahead in the fourth quarter. As USC held on to remain undefeated, Riley revealed what he told Williams that got him out of his funk.
"Just said we've been there before," Riley said. "These games, you can't — everybody wants to define like, how they're going to go before the game's ever played. You've just got to go play. Some days you're not going to be at your best. Some things are not going to go your way, and how you respond in those moments is what separates you. I just reminded him, we've been in a few of these when he was younger, and we talked about throughout the off-season, about how we wanted to handle it.