USC Football: ESPN's FPI predicts every 2021 Trojan game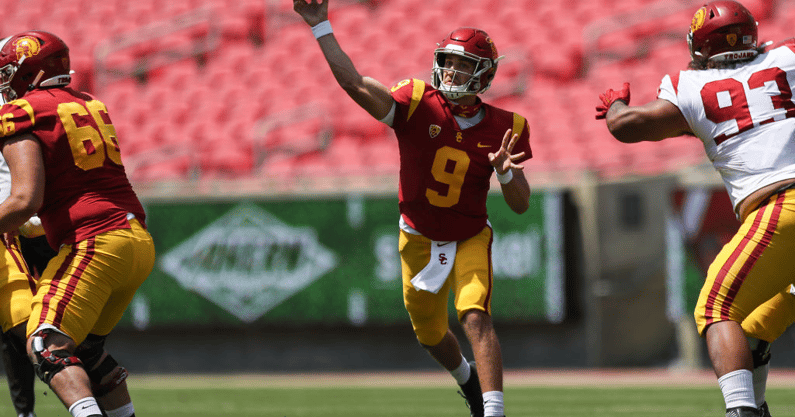 ESPN released its latest FPI predictions for the 2021 USC football season. FPI is a game predictor based on factors such as returning starters, prior seasons results and coaching tenure. The formula gives the Trojans a 21.2% chance of winning the Pac-12 and a 0.2% chance of going undefeated.
Close calls were a familiar theme for USC last season. The Trojans played six games in 2020 and four of those were decided by single digits. They managed to come out on top in all but one, a 31-24 loss to Oregon in the Pac-12 championship game. They return quarterback Kedon Slovis, who tossed for just shy of 2,000 yards in 2020. USC's running game averaged only 97.3 yards per game and 3.2 yards per carry. The Trojans brought in running back transfers Keaontay Ingram (Texas) and Darwin Barlow (TCU) to rectify that.
Below is a game-by-game look at the 2021 USC football season according to the FPI:
Vs. San Jose State, Sept. 4: This in-state non-conference battle is USC's easiest game of the season according to the FPI. ESPN gives the Trojans a 93.1% chance to earn the victory; so they should have an opportunity to work in new players in their season opener.
Vs. Stanford, Sept. 11: This is another matchup the Trojans should win according to the ESPN metrics. Stanford has a new quarterback this season and ESPN gives USC football a 74.3% likelihood of victory.
At Washington State, Sept. 18: The Cougars finished just 1-3 last season; so expectations aren't exactly high for 2021. ESPN gives the Trojans a 72.7% chance to win their first road game of the year.
Vs. Oregon State, Sept. 25: Oregon State loses its top contributor from 2020 in running back Jermar Jefferson. The FPI says USC football has an 87.9% odds of victory, the third-highest of any game on its schedule.
At Colorado, Oct. 2: After going 4-2 last year, Colorado returns starting running back Jarek Broussard and redshirt freshman receiver Vontae Shenault. ESPN still likes the Trojans, however, giving them a 65.9% chance to go home with a win.
Vs. Utah, Oct. 9: USC football is lucky to face one of its toughest conference opponents at home. Baylor transfer Charlie Brewer vs. Slovis will be a great quarterback showdown, but ESPN gives the Trojans the slight edge with a 61.8% chance of winning.
At Notre Dame, Oct. 23: Notre Dame is unquestionably the toughest game on the schedule. The Trojans get a bye week to prepare for the Fighting Irish, but still only have a 21.3% likelihood of winning according to the FPI.
Vs. Arizona, Oct. 30: After games against Utah and Notre Dame, USC gets a bit of a break with Arizona. The Wildcats failed to win a game in 2020 and ESPN gives the Trojans their best chance at earning a conference victory at 91.7%.
At Arizona State, Nov. 6: This is the lone Pac-12 game that the Trojans have less than a 50% chance to win. The Sun Devils return quarterback Jayden Daniels, and USC football has a 47.3% chance to walk out of Tempe with a victory.
At California, Nov. 13: The Bears won only one game in a shortened 2020 season. Even on the road, ESPN likes the Trojans to be the victor as they have a 74.4% chance.
Vs. UCLA, Nov. 20: Chip Kelly is entering his fourth year with the Bruins after lackluster results in the first three. If he upsets USC football, it would be a big surprise with ESPN giving the Trojans a 74.5% chance to win.
Vs. BYU, Nov. 27: The final game of the season ― and thus Senior Day ― for the Trojans comes against BYU. The Cougars went 11-1 this past season but lose quarterback Zach Wilson. They should still be strong, and the FPI predicts a Trojan victory 68.8% of the time.