USC makes final decision on Domani Jackson vs. Fresno State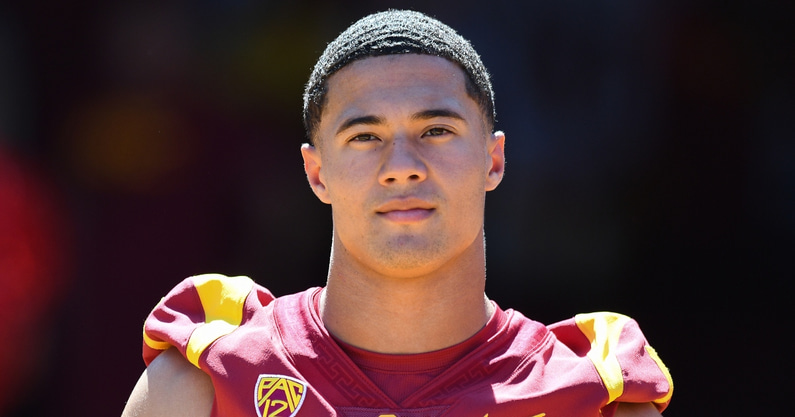 The USC Trojans are lucky enough to have one of the nation's most electrifying defensive backs in their arsenal in former Mater Dei (Santa Ana, California) standout Domani Jackson. He's one of the fastest players in the country and the Trojans will finally get him back in the lineup this evening. He was seen going through pre-game workouts this evening, ahead of the Trojans matchup with Fresno State. Jackson was also dressed in full pads before Saturday night's matchup.
The gifted defensive back has not played yet for USC due to an undisclosed injury.
Lincoln Riley convinced him to stick with USC
Newly anointed USC Trojans' head coach Lincoln Riley landed a massive commitment from five-star plus cornerback Domani Jackson in the class of 2022. While Jackson was originally committed to the Trojans for a very long time, he decommitted on Nov. 14 and began considering other options like Alabama. The Mater Dei (Santa Ana, California) star ultimately decided to stick with the Trojans. Jackson visited the USC campus the two weekends leading up to the Early Signing Period.
Domani Jackson Scouting Summary
On3 Director of Scouting Charles Power wrote the following on Jackson as a prospect:
Has the best combination of size and long speed among the cornerbacks in the 2022 cycle. Tied the California state record in the 100 meters as a junior, running a posting 10.25 second mark in the state finals at 6-foot-1, 180 pounds. A technically-sound, smooth mover who has been well-coached at one of the nation's top high school programs. Is battle-tested against top wide receivers playing against nationally-ranked high school teams on a regular basis. Has considerable make-up speed to close the gap when he is out of phase. As a defense-only player, he's still a work in progress when it comes to instincts and ball-tracking skills. Missed the majority of his senior season after tearing his ACL in Mater Dei's first game.
According to the On3 Consensus, a complete and equally weighted industry-generated average that utilizes all four major recruiting media companies, Jackson was rated as the No. 3 overall player in the country. He was also ranked as the nation's top cornerback and top player from the state of California.
On3's Charles Power also contributed to this article.