USC OL Andrew Vorhees declares for 2023 NFL Draft, announces he'll skip Cotton Bowl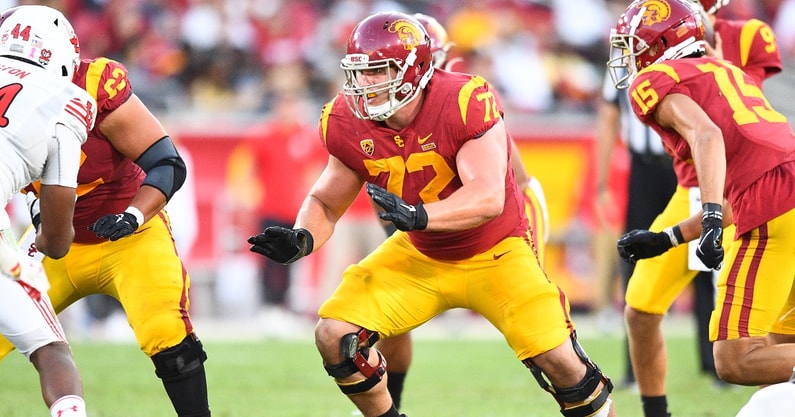 USC offensive lineman Andrew Vorhees announced on Twitter on Friday that he's skipping the Cotton Bowl against Tulane and is declaring for the 2023 NFL Draft. Vorhees is expected to be one of the most coveted interior linemen in the draft.
Vorhees is a highly-experienced player, with 44 games played in his career — 37 of them starts. He's played three positions, too, slotting in for starts at right guard (25), left guard (8) and left tackle (4).
Behind Vorhees and the rest of the Trojans' offensive line, USC averaged 5.13 yards per rush in 2022 and scored 29 times on the ground.
More on the 2023 NFL Draft
The 2023 NFL Draft is set to take place from Thursday, April 27 through Saturday, April 29 in Kansas City, Missouri. The event will be held at the plaza just outside of Union Station.
Round 1 of the NFL Draft is set to begin at 8 p.m. ET on Thursday, Apr. 27. Rounds 2-3 will begin at 7 p.m. ET on Friday, Apr. 28, and Rounds 4-7 will begin at 12 p.m. ET on Saturday, Apr. 29. The draft will be broadcasted throughout the weekend on both ESPN and NFL Network.
To be eligible for the NFL Draft, players must be at least three years removed from their final year of high school while having used up their collegiate eligibility. Underclassmen are able to request league approval to become eligible for the draft, as are players who have graduated prior to using up all of their collegiate eligibility. 100 underclassmen were approved for last year's draft. 73 of those 100 underclassmen were granted special eligibility while 27 of them were underclassmen who had completed their college degrees.
The 2023 NFL scouting combine will take place from Feb. 28 through March 6 in Indianapolis.