Caleb Williams heaps praise on explosive USC rushing attack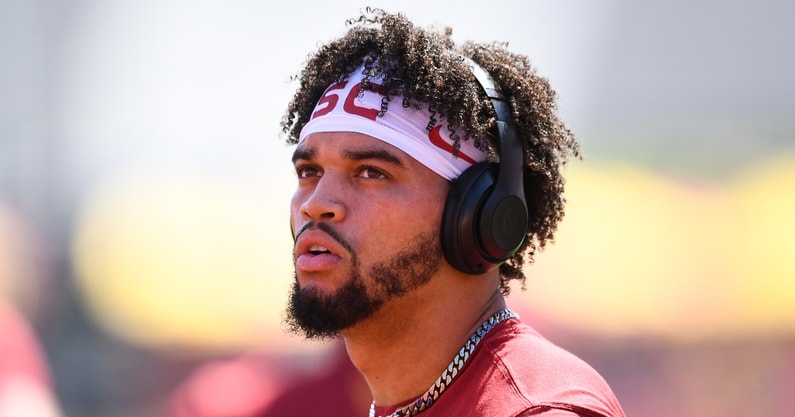 One of the major offseason storylines at USC was the addition of head coach Lincoln Riley and quarterback Caleb Williams from Oklahoma, and how the duo would bring their explosive air attack from Norman to Los Angels. But Williams recently spoke on his stable of running backs, and showed excitement about USC rushing attack ahead of the season.
"I love handing the ball off to those guys, it makes my job a lot easier because the defense has to come up and play vs those guys. Austin [Jones], Raleek [Brown], T-Dye [Travis Dye], [Darwin] Barlow, they're all explosive backs they all have to come up, they can all pop one for a touchdown or an explosive play. Love handing the ball off to them because it makes my job easier," Williams said.
Out of the four running backs Williams mentioned three of them are transfers, with Barlow joining the team in 2021 from TCU, and Dye and Jones (both California natives) joining the team this season from in-conference schools Oregon and Stanford.
CLICK HERE to subscribe for FREE to the On3 YouTube channel
USC definitely has a stable of backs that brings speed, big play ability, and Pac-12 experience to the table for USC. Williams also seems confident in his backfield and hopefully for the Trojans, Lincoln Riley can use all of his new weapons to maintain the high offensive precedent that he set at Oklahoma.
Travis Dye details how quickly he got acclimated inside USC locker room
USC transfer running back Travis Dye joined the Trojans earlier this year, along with many other transfer additions. But Dye said despite his short amount of time with the team, that he meshed and bonded with the team very quickly through their offseason workouts and practices.
"I'll guess with any team it's with the workouts and everything you do with the football because this stuff is hard, it's not easy so you glue together with the guys. But there's something different about this team and these guys, it was so much quicker and so much better than any other group I've been a part of," Dye said.
Dye attributes the easy transition to the USC players that were already on the roster for creating a welcoming environment for him, and hopefully for other players with so many new faces on the roster and with team camaraderie being so crucial to success.
"These guys they brought me in and I was one with them so quick I couldn't even process it really. I feel like I've been here for five years, I just got here last February, but it was all thanks to the guys that were here before me setting that up," Dye said.
Dye had a phenomenal four-year career at Oregon before joining the Trojans, accumulating 3,111 rushing yards (fifth most in school history), 869 receiving yards, and 305 kickoff return yards.  Dye was the Ducks rushing and receiving leader last season, and the Trojans are hoping that he and other transfers Caleb Williams and Jordan Addison can be a three-headed monster in Lincoln Riley's offense this season.