Report: USC reason behind Clay Helton dismissal, buyout revealed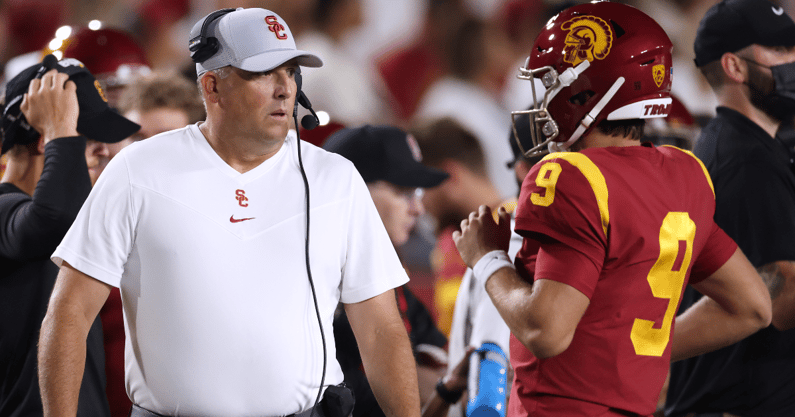 USC revealed the reason behind the buyout and firing of coach Clay Helton on Monday, per Bruce Feldman of The Athletic. The Trojans brass was apparently "disheartened" with the team's effort following a 42-28 loss to Stanford this past weekend.
Helton had two full years remaining on his deal after this one. He's expected to be owed more than $10 million in buyout money.
"SOURCES: USC leadership was disheartened by what they saw from Helton's team Saturday night when they got blown out by Stanford," Feldman tweeted. "AD Mike Bohn knew he couldn't keep Helton any longer; just had to sort out timeline and an interim.
"Helton had been on the hot seat essentially since 2018; recruiting became harder with that status. As much as USC brass really respected him as a person; they finally realized they just couldn't keep him on any longer; fans were going to stop showing up to their games."
The Trojans made the announcement Monday evening. Athletic director Mike Dohn named Donte Williams as the interim head coach. He said he knew the direction he wanted to go after Saturday, but needed a couple more days to work out a timetable and land on Williams.
Helton was booed off the field at the half Saturday. The Trojans committed 111 yards of penalty in the loss, and their kicker Parker Lewis was ejected on the first play of the game. Quarterback Kedon Slovis has continued to regress; he threw a pick-six in the third quarter.
Helton's time in Los Angles is over; he finishes with a 46-24 record. But the Trojans are 19-15 since 2018 and have not won the Pac-12 since 2017. They have struggled to stay relevant on the national stage, too.
"As I committed to upon my arrival at USC, during the past two off-seasons we provided every resource necessary for our football program to compete for championships," Bohn said in a statement. "The added resources carried significantly increased expectations for our team's performance, and it is already evident that, despite the enhancements, those expectations would not be met without a change in leadership."
Helton was brought to USC by Lane Kiffin to serve as the Trojans quarterbacks coach. He was then promoted to offensive coordinator in 2013. When Ed Orgeron resigned from his post as interim head coach after Steve Sarkisian took the job, Helton coached USC in the 2013 Las Vegas Bowl.
He took over as interim head coach again in 2015 when Sarkisian took a leave of absence. On Nov. 30, 2015, the interim tag was taken off and Helton was tabbed as USC's 23rd head coach in school history.
But Helton was never able to bring the Trojans back to the national success they had throughout the 2000s under Pete Carroll. Whoever USC and Mike Bohn bring in next will be expected to make Pac-12 titles and College Football Playoff appearances a common occurrence. Clay Helton wasn't able to do either with any regularity, ultimately the reason behind the buyout.
For more coverage from our team of USC Insiders at WeAreSC CLICK HERE
On3's Pete Nakos contributed to this report.